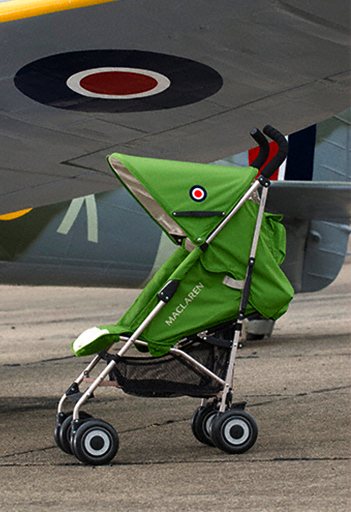 I'd planned to go to the ABC Kids Expo in Las Vegas for one day, yesterday, and then red eye it home in time for the kid's first full day of pre-school this morning. Instead, I spent Saturday with Hurricane Hanna, and yesterday opening press releases in my inbox.
Like this awesome notice from Maclaren, who have gone on a product-launching tear of late. As you know, England is on the metric system, so they weigh everyone with stones and launch their all-important commemorative strollers on the 70th anniversary of things not the 75th. Thus, we don't have to wait five more years for the Maclaren Spitfire Buggy. See, company founder Owen Maclaren helped design radiator seals for the Spitfire fighter plane, which went into service 70 years ago, Radiator seals, stroller from Quadrophenia, it seems like a straight line to me.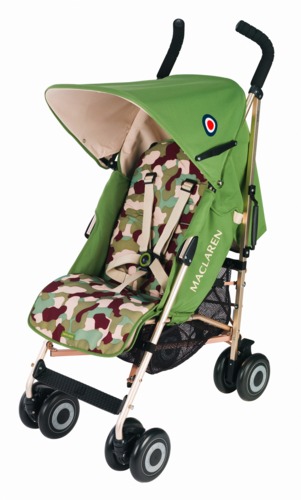 The Spitfire Buggy is wrapped in vintage military green, has a reversible--and removable camo/plaid seatliner, and in a masterstroke, sports the RAF's red, white and blue bull's eye on the canopy. And is that an anodized gold finish on that aluminum frame? All that's missing is a dozen rearview mirrors, and you'll be able to drive it over the heads of any rocker baby who dares to get in your way. Quadrophantastic.
It's not on the website yet, but the Maclaren Spitfire Buggy is supposed to be in stores now, at $350. Ouch. [maclarenbaby.com]