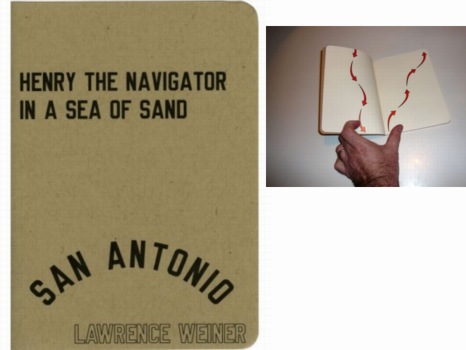 If there's a daddy who knows his way around type, it's conceptual artist Lawrence Weiner. Since the late 1960's, he's been using text--and language and actions and instructions, even punctuation--as a medium. He's best known for his wall installations, but he was also a pioneer of conceptual artist books, too; one of his most important early works was his 1968 Statements, essentially an exhibition in a book.
Well, time marches on, and in 2006, Weiner published Henry the Navigator in a Sea of Sand, as part of an exhibition at Lawrence Markey Gallery in San Antonio. It's a bilingual story book of sorts created for his grandson.
Mine hasn't arrived yet, so I don't have any idea what's in it or what it's about, except that it's spanish and silver in one direction, and english and gold in the other. And there's at least one spread full of arrows.
If you want to check out the book before buying it, try Printed Matter or the bookstore at Dia. The unsigned edition of 750 is around $40. [amazon]
If you're adventurous and already a Weiner fan, the signed, numbered edition is only at Lawrence Markey. [lawrencemarkey.com]