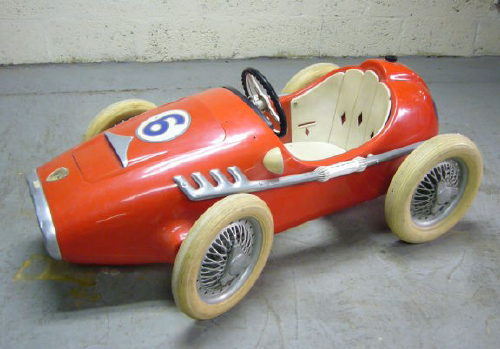 OK, so there's De Parma, a slightly cheeky antiques dealer in London, who's selling this vintage Ferrari Tipo 500 F2 racer pedal car--dated to the 50's and sourced to Italy, but otherwise no manufacturer is mentioned--in very nice original-looking shape, with the racing paint, the exhausts, even the old timey white tires on knockoff wire wheels intact. $2,400 asking, and I'm sure it's worth every ha'penny.
But when I tried to get a sense for how that compared to the other £1,200, 50-lb steel pedal cars out there, I discovered that there's a brisk and wildly disparate market out there for reproduction F2 racer pedal cars. For some reason, this car--the original of which had an illustrious but very short racing career in the mid-1950s--has become an archetype, a yellow rubber duckie, nay, the Rolls Royce of pedal cars.
Check it out: American Retro has a pretty close approximation of the vintage F2 for $539. [Though a guy's selling one right now off the floor of his shop in Buena Park for $250. Remind me never to give him any expensive gifts.]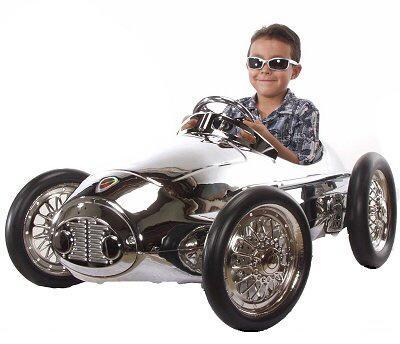 American Pedal Car, meanwhile, has a couple of plain F2 models for $410, plus this insane all-chrome F2 pedal car for $510 [Oakley-rocking-dbag-in-training not included].
But wait, some guy in Minneapolis did a throwback tuner job on an American Pedal F2, adding missing details like vintage badging, exhausts, a plexi windscreen, even an aluminum gas cap, all for $950: "This car is functional," he writes, "if you dare let a child of 3-7 even drive it. Fine for supervised walks in the neighborhood, but don't let them leave it at the end of the driveway! It also looks good hanging on your wall, or sitting in your office, as it sits in mine." Uh-huh.
Was the F2 on the cover of the Sears Christmas Catalog in the mid-50s, and thus lodged in the psyche of every boomer boy in the country? Because I'm not getting the sense that any of these are actually for the kids.