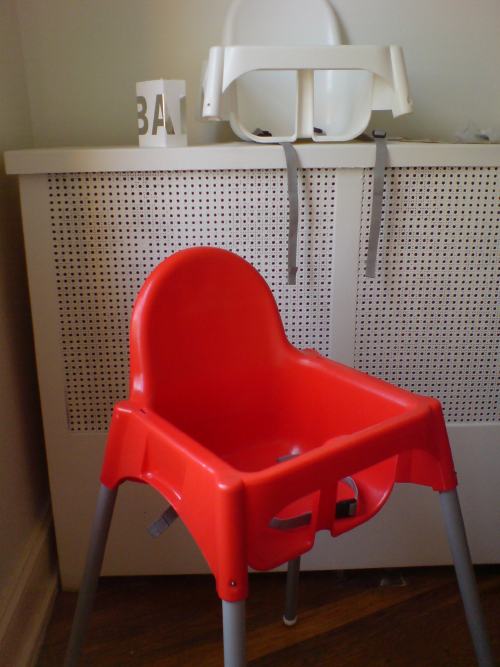 We were at the Big Blue Box last night looking for some kitchen shelves, and I stopped off to buy my in-laws the greatest high chair bargain in the world, an Ikea Antilop, to replace the horrible, plaid, ruffled plastic monstrosity they dutifully bought before the kid's first visit--but which they justifiably hate.
Lo and behold, what's next to the giant pallet of white Antilop high chairs? A giant pallet of red Antilop high chairs. And they were only $15, inexplicably cheaper than the still-inexplicably cheap $20 originals.[1] So we grabbed one for ourselves. [The legs even have little red caps on them, but we only took the seat; I guess we'll switch back to white in the winter or something? Not after Labor Day?]
I can't find the red Antilop pictured or even mentioned online anywhere yet, but somebody named Bif in Minnesota is flipping Antilops on eBay, and he's got a blue one. Now normally, I think this kind of Ikea reselling is ridiculous, but if there's a secret, Swedish rainbow of chairs scattered across the country, eBay is the compleatist's only hope.
Besides, even at $43 shipped, the Antilop's still a great chair. Not $15 cash-n-carry perfect, but great.
Steep: Blue Ikea Antilop high chair - new, $25 Buy it Now + $18 shipping from Bif's Treasures[ebay]
[1] I noticed that Ikea had increased the prices of quite a few things I look at regularly. The Antilop has been $18 or 19 for a while; $15 was the price from four years ago. The red chairs were clearly labeled $15, though, so when it scanned at $20, I whined. A manager went to check, and told us the $15 price was out-of-date, and that she'd taken the sign down. After giving us the price, that is.