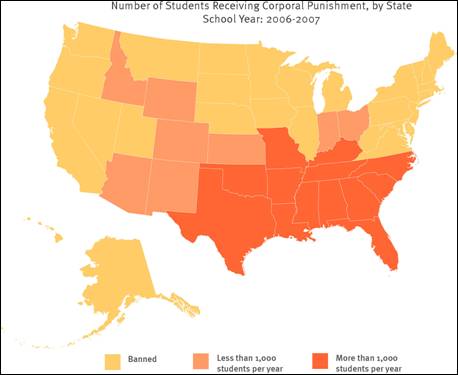 And all this time, I've been putting the accent on Bible, when I should've been putting it on Belt.
Still, it answers a question that's had me stumped since elementary school in North Carolina. Whipping was every week, right after we had our little cups of flouride swish, and right before gym. Our principal used to tell us, "Spare the rod and spoil the Human Rights Watch report!"
For some reason, the HRW survey did not research the use of hot sauce in response to sass.
Prevalence of Corporal Punishment in US Public Schools [hrw.org via dt reader ponch]
[update/flashback: the mention of paddling in the comments reminds me that my NC grade school principal DID walk around with his paddle hanging from his belt. All joking aside. And it wasn't just for birthdays either, though there was that. Should I be traumatized?]