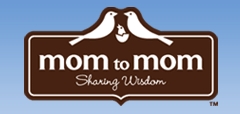 Hey girlfriend! Have I got a store brand for you!
Finally, a new line of high-quality baby products designed and created by moms, for moms.

As moms, we want nothing but the best for our babies. So when it comes to baby products, we look for the brand we can trust, and truly understands us and our baby's needs.

mom to mom™ is the new and improved Safeway brand of baby products we've trusted all these years. It was created using the shared wisdom of the real experts in caring for babies: moms like you and me. Using our insights and real-life experiences, mom to mom™ developed more functional high-quality products to make our life as moms easier and more fulfilling.
[Emphasis added where a $40 billion grocery store is pretending to be an actual human being. With kids.]
In the press release announcing mom to mom™'s Mother's Day launch, Safeway SVP of Consumer Brands--and mom?--James White says that the products were designed with input from "real moms." Such as?
The importance of gentleness and ease-of-use were key take-aways
from the research with mothers. For example, mom to mom(TM) baby wipes
are hypoallergenic and come in a flip-top package with a wide
dispenser, making them easy to access with one hand during diaper
changing or feeding. Toiletry items such as baby wash and baby lotion
are in wide-bottom bottles to avoid tipping and spilling.Aha. Why was I expecting a takeaway even remotely mom-exclusive, like maybe about the Ring of Fire?

Safeway Unveils New Family of Baby Products Developed for Moms by Moms [prnewswire/reuters via dt reader kelli]
Safeway | mom to mom [momtomom.com]