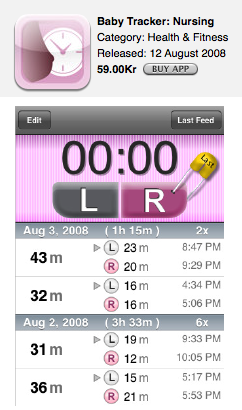 Darren Andes' Baby Tracker: Nursing is a tap-friendly iPhone app that allows moms to log their breastfeeding activity, whether it's to keep track of how much and how long the kid's eating, or just to remember which side the kid hit last.
Contrary to the opinion of many befuddled commenters on Gizmodo, who are frozen like deer in the headlight by the app icon's silhouetted nipple, this nursing tracker might actually be worth the ten dollar price tag: it's designed for easy, ongoing use, and it logs information you might want regularly.
Which distinguishes it from basically every other baby or pregnancy-related app I found in the iTunes App Store's Health & Fitness section. Most pregnancy apps either mimic free website services, or they're only useful for very limited windows of time, or both. There are two due date calculators, for example, which, unless you often find yourself needing to reverse engineer your friends' sex lives from their own due dates, you will use approximately once.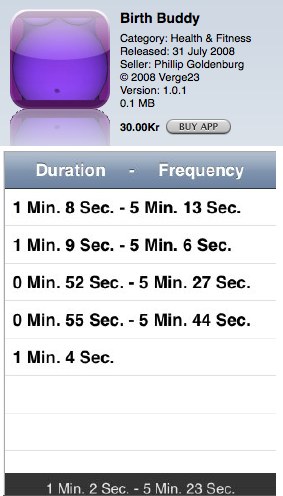 Birth Buddy is a contraction timer, which might be marginally better than the clock on the cable box or any other clock, if you have the presence of mind to use it. [On the Gizmodo-plus side, it does have more icon boobage.] Growth Chart implies that you're weighing and measuring your little Sweetie McLaughing more frequently than the pediatrician is, a very unlikely situation.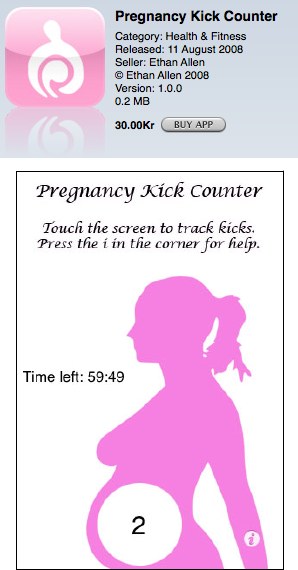 Pregnancy Kick Counter's uselessness is compounded by odd design and even odder medical posturing. ["If you detect a decline in movement, call, no matter what the time. We've all been taught to be considerate of others but this is a different situation. Doctors, like firemen, have chosen a 24-hour occupation. You've chosen to become a mother. As a mother your job is to protect your baby. Pick up the phone and call at once."] There's another boob, though, the biggest yet. Also, it's made by Ethan Allen, a distant cousin whose website appears to not exist.
There's a very nice-looking ovulation calendar app, but I figure I have to draw the Daddy Types editorial line somewhere, and no matter where I draw it, tracking periods always ends up on the other side of it. Also, since the only iPhone in our house is handknit, perhaps someone who's seen more than screenshots will care to weigh in on the expectant/new parenting tools in the iPhone's box.
iPhone's breastfeeding app has a nice icon [gizmodo via like ten people]