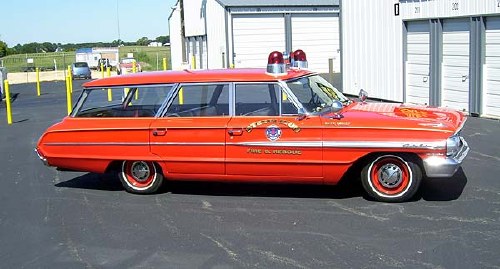 Besides the remarkable, unrestored condition and the sheer awesomeness of growing up with sirens and flashing lights on top of your family ride--you'd be the star of every school dropoff line and carpool, and the kid'd totally be a fire fighter every Halloween--what I like most about this 1964 Ford Galaxie Country Sedan is that it would make a perfect companion to a sweet, old Creative Playthings fire chief car or even a Community Playthings maple station wagon.
I only wish that instead of the fire department, it was the Blog Software Search & Rescue Squad, come to fix all the bugs with the damn site.
1964 Ford Galaxie Country Sedan Vintage Fire Chief Wagon, $9,995, auction ends Aug. 14 [ebay via the always tempting bringatrailer.com]
update: it didn't budge. sold for $9995.