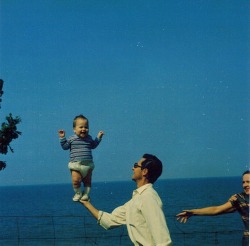 So I saw this old photo on c-monster, which got me wondering just how long this balancing a baby on one hand thing has been going on.
There are over 800 "balancing baby" videos on YouTube at the moment. Balancing a baby on one hand seems to be a dad thing. Though I did find this one mom doing it in the 1950's, and there are the occasional uncles--and this guy, whoever he is.
And it transcends cultures. Here's a dad in Laos doing it. Here's an Indian dad doing it. This one's tagged "gypsies." This dad's doing it in Barbados, but I think he's just on vacation. And the dad in this 1990 Betamax video is speaking Spanish, and is from a country where people still used Betamax in 1990.
Betamax baby shows the two basic techniques: the less precarious, sitting balance [also seen here] and the full stand. Here's a video which made the rounds last year of a dad getting his kid to stand on one foot:
But that's not new; the 60's dad in the second half of this MST3K-style puppet clip does one-foot-on-hand, and then he tops it:
Most balancing babies seem to be 6-12 months old, though there is this 3-month-old named Eliana. Very advanced for her age.