The nursery in a fastidiously restored, mid-century modernist California tract home. It's the space that launched a thousand trips to Ikea. CA Modern magazine has a story about how kids are not actually incompatible with your Eichler house's modernist lifestyle.
It features a bunch of product, plus wisdom and photos from regular DT commenter Darren, who's like the dean of CA Mod parenting these days. And there's those folks who use the giant Cray supercomputer in their kid's room as seating and storage.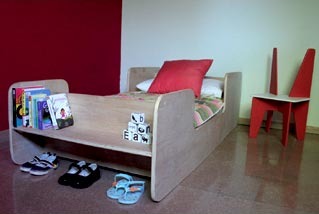 And then there's Sean Curran, the dad and Eichler owner who was fed up with the high prices and Made In China-ness of the modernist kids furniture out there, so he started his own line. First up in September are a toddler bed and a knock-together kid's chair inspired by the Herman Miller logo, both made in the USA from sustainable birch ply. His company is called Mod Dad Furniture. HAHA, just kidding, it's Sofali. Named after his daughter.
KIDS GO MODERN: How your children and your home's modern design can live happily together [eichlernetwork.com via rockstar darren]
Sofali [sofali.com]