"Nothing about the outside of Ricardo Gonzalez's deep blue Land Rover tells there's a homemade jail inside, where his two young daughters were completely immobilized in tight seats covered with straps, just like an electric chair."

Can you ever imagine the paragraph above being published instead of the actual lede from the Chicago Sun-Times' Southtown Star report?
Nothing about the outside of Ricardo Gonzalez's rusting navy-blue pickup truck tells there's a homemade jail inside - where he encaged his two young daughters.

Inside the 1995 Chevrolet S10 truck, Gonzalez erected a wire cage behind the driver and passenger seats to hold the girls, ages 2 and 5, while he drove around as a scrap hauler, Posen police said.
All the facts aren't in, so I'm not ready to absolve Gonzalez completely for putting fencing across the backseat of his truck to keep his daughters safe while he worked, but so far, the only actual potential crime here is not attaching his kids' car seats according to manufacturers' instructions.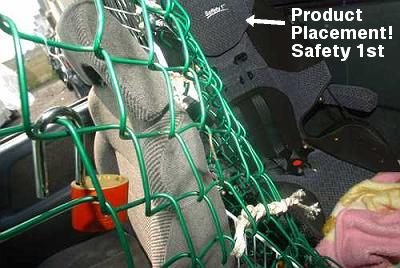 I know a smug media railroading when I see it, though, and between police and the local media, Gonzalez is already being convicted for being poor, Hispanic and driving an old car with tinted windows. State attorneys leak that they're considering upgrading the misdemeanor charge to a felony, while police officers take TV news crews on a tour of the cage ["'I wouldn't put my dog in that, said Cpl. William Alexander"] and the elaborate concealment techniques on Gonzalez's truck--i.e., tinted windows and a big sheet of plywood in the back, which couldn't possibly be used to increase the amount of scrap he carries--or to keep it from coming through the window and, uh, harming his kids.
The Tribune's report, which I linked to Friday, provides a little more sympathetic context, along with more evidence that seems to show the kids were in little or no actual danger:
Whenever Ricardo Gonzalez went to a job site in his pickup truck, he never let his small children out of his sight. So protective was the 35-year-old south suburban man, he kept his daughters in a makeshift cage inside the truck, officials say.
They also quote a DCFS report where the older daughter tells state officials, "My dad tightens both of us with his belt by my leg and my sister was [on] the other side of the cage tight with another belt." If the kids were in their seats all the time, there'd be no need for a fence, so presumably he built it to keep the kids in the truck but out of the front seat while the truck is parked. Which, if it's not optimal, at least sounds responsible, even reasonable.
Considering a neighbor told the Tribune that the girls' mother works long hours as a dental assistant, and that the couple couldn't afford a sitter [what, on a scrap hauler's and dental assistant's salaries?] it sounds like the best the dude's able to do.
But wait, this is a family with a history of neglect and abuse, right? It's in the DCFS system! You mean the report that the mom left her daughter outside on the lawn in 2006? That was called in by the next door neighbor, who was also outside, while their two kids were playing together. From another Sun-Times article:
[Kim] Chicoine said she reported neglect two years ago. She was playing outside with her son Jacob when she saw the girl's mother, Yesenia Mendoza, drive away, leaving behind her older daughter, who was 3.

"The little girl said her mom was going to the store," Chicoine said. "I guess she just assumed we were going to watch her. I gladly would have, but she didn't even ask me."
So instead of watching the kids, then mentioning it to Mendoza when she came home, Chicoine called the police.
She called again a few weeks ago, when she saw Gonzalez installing his fencing, and a Southtown Star editorial contains some more damning color that sounds like it could only come from a judgmental neighbor:
It seems someone calling DCFS must produce a specific time, date and place for an instance of abuse or neglect. Simply reporting that you fear your neighbor is hauling his kids around in a cage, that his house is a mess and his kids appear unkempt, starved for attention and constantly sick is insufficient.
Something for Chicagoland parents to be thankful for the next time their kid steps out of the house with a stained shirt or a runny nose.
Again, none of us knows the entire story here, and I guess it's still possible that these parents are an imminent threat to their kids. But what if they're just conscientious, but struggling parents with no resources? Just imagine what this story would be like if, instead of kneejerk media condemnation feeding public sanctimony, there were even an ounce of sympathy for these parents. I guess affordable child care for poor, working families seems beyond our collective imagination, but what about a society where the neighbors do more than just narc you out? Is there really no solution, organization, or resource for parents of limited means and experience to get a little support when they need it?

July 3: Two kids found caged inside dad's truck [southtownstar.com]
Midlothian father admits he locked daughters in cage in truck, cops say [chitrib]
July 4: Neighbor suspected girls would be caged [suntimes]
July 10: op-ed: DCFS's lack of action frustrating [suntimes]