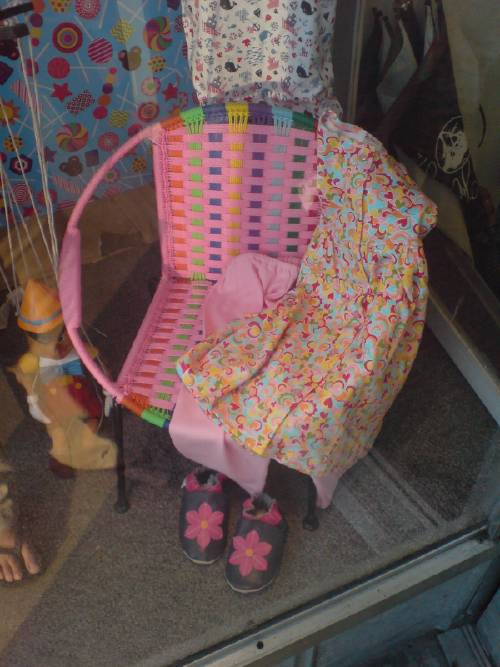 So about this chair: I always keep my eyes out for a good base that I could use to make a kid-size Campana Brothers-style stuffed animal chair. I'd imagined using either Takashi Murakami plush dolls or Ugly Dolls, but if the idea worked, lashing them into a chair'd be a nice way to deal with the mountain of stuffed toys the kids accumulate, too.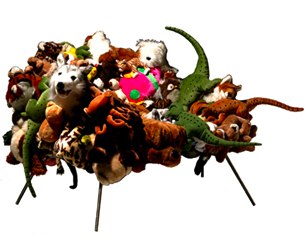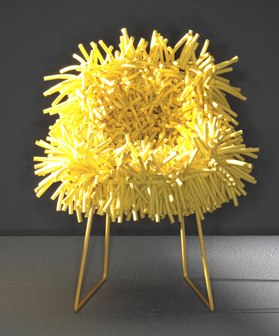 The idea came from liking the concept but not the execution of The Cartoon Chairs, a Campana x Disney mashup in London last year. After seeing Douglas Homer's cool, modded Hairy Bertoia chair, I thought the little Bertoia side chair would work, but I think it's too shallow. [If only there were a kid-sized Diamond Chair...]
Anyway, we passed this round woven chair in a store window on the way to dinner the other night. It's made of wrought iron and nylon cord, and it's $85. I don't know if the wide open sides would support a web of stuffed animals, but it's promising.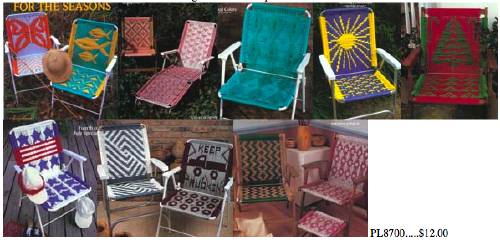 Unless chairmodding turns out to be the tip of some craft-addled, Middle American iceberg. While poking around the web looking for the manufacturer of this--or similar--chairs, I stumbled across the mindboggling world of lawn chair macrame. Let me repeat that: Lawn. Chair. Macrame. Carol's Rugs has hundreds of patterns, plus macrame cord, flimsy aluminum chair frames, and instructional DVDs; all you need to bring is your endless supply of undervalued time!
So anyway, anyone know who makes this chair?
Macrame Lawn Chair Patterns [carolsrugs.com]
update: the spam filter snagged it, but Jenn from minor details ID'd the chair mfr; it's Iman Deco, and they've been getting Elle Decor writeups about importing them from Togo for years. They're made from old phone cable.