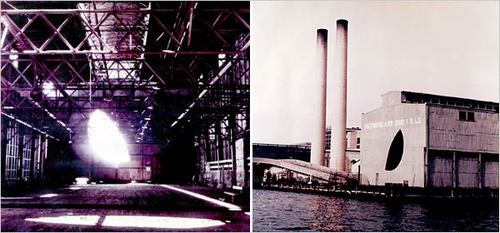 We were at MoMA the other day, the kids and I, and when we'd had our fill of watching Spiral Jetty--the kids' first visit is in a couple of weeks--we got up, turned the corner, where another dark, grainy 70's art film was playing. Before we even get over to it the kid goes, "Is that the one where the guy cuts the moon out of the side of the old building?"
"Let's check. Yes it is, honey. It's called Day's End, by Gordon Matta-Clark [and you saw it once, a year and a freaking half ago at the Whitney.]"
I'd forgotten about this until just now, when the kid walked up to me and asked to watch that video where the creature makes the waterfall. Huh? The one where that lady rides on the creatures back, and goes along the river, singing, and it makes a waterfall? And the beginning's a little spooky? Aha.
So here is link to a hi-res version of Bjork's "Wanderlust", directed by Encyclopedia Pictura. [ghostrobot.net]