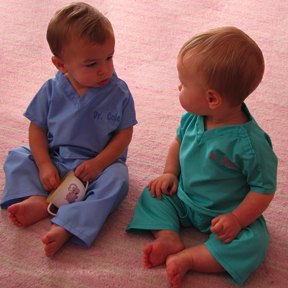 My First Scrubs are available in sizes 0-6 months, all the way up to 8 years. In blue and green, also pink, but not, inexplicably, in those crazy psychedelic paint brush patterns the nurses wear.
They can be monogrammed, but for authenticity, I suggest stamping "PROPERTY OF _____ HOSPITAL - DO NOT REMOVE" on the butt with a stencil and a Sharpie.
After you dress your kid in his scrubs, you can complete the little doctor experience by saddling him with a six-figure student loan and keeping him awake for 50 hours at a stretch. Then sue him for malpractice when he doesn't get himself into Harvard.
My First Scrubs Shirt and Pant Set, $28 [princesslinens.com via kathryn]