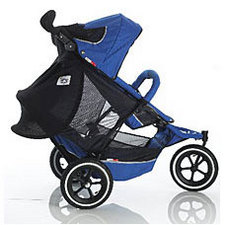 It's the city parent's dream: a double stroller the size of a single. Just not if you use it when the sun's out. While the sun canopy on the Phil & Teds has certainly improved over the years, it still feels kind of small and un-shady to me. And if you don't believe me, just ask the kid in back with the lobster-red scalp and the vultures circling over his head.
Brooklynite & DT reader Amy jury-rigged some kind of canopy for the rear seat, but her mom kept stepping on it. [don't get her wrong; it's great to have grandparents close by. She's just saying...] So she flew in a Tandem Shade for the P&T from Protect-A-Bub in Australia, and now they couldn't be happier. Assuming, of course, that they didn't go outside this week; it was like 110, even in the imported shade.
Has anyone else figured out a shade solution for the Phil & Teds?
Tandem Shade for Phil and Ted Jogger, $AU44 + s/h[protect-a-bub.com.au]
An eBay Store has some, too: Protect-a-Bub UPF 50+ Back Seat Tandem Sunshade Black, about $42 shipped [ebay]