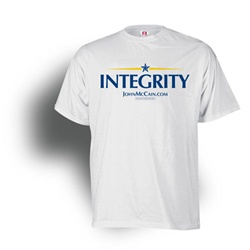 Looking to help John McCain earn $50 the easy way? You can buy a "Dads For McCain" cap and his integrity for just $25 apiece. Oh, sorry, it's just an Integrity t-shirt. Too bad it's not a fragrance: John McCain's Integrity for Men. It'd be perfect for apres-golf.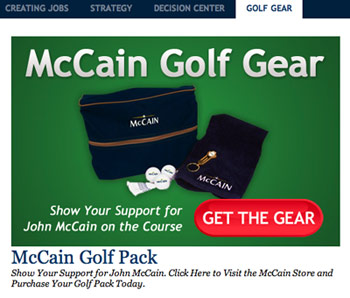 Which brings me to the other gift for the McCainiac in your life, the Father's Day McCain Golf Pack [$50], which includes a set of John McCain tees, markers, and an exclusive gold-tone John McCain divot tool, all in an attractive carrying case. Whoops, better have a backup gift: "Usually Ships in 2 to 3 Weeks."
Also, don't forget to vote Nov. 5th. Better write it down, you know how you get sometimes!
"Creating Jobs | Strategy | Decision Center | Golf Gear" [via tpm]
The product reviews at the McCain Store last night were hilarious, but gone. Wonkette has documented many of them, though. [wonkette]