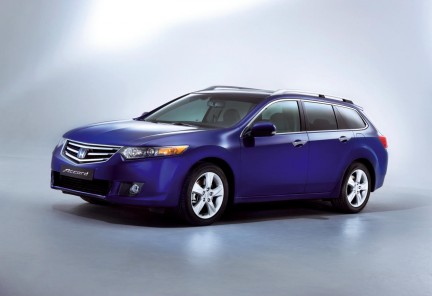 Holy crap, Honda. Diesel wagon with a standard 6-speed manual transmission? Forget Europe, this description of the 2008 Honda Accord sounds like it's from freakin' Bizzaro World:standard? :
Honda unveils the new Accord for Europe, with a sportier design, a whole slew of new safety systems and three new engines, all Euro 5 compliant. The new Accord is both wider and slower than the current model, with sharp edges and a wider stance.

The engine line up includes a 2.0-liter i-VTEC gasoline engine (156 ps). Power output is unchanged compared to the current model but fuel economy and emissions are much improved. The 2.4 i-VTEC engine gains 10 ps (200 ps now), as does the new 2.2 i-DTEC diesel engine compared to the i-CTDi engine of the current Accord. The i-DTEC engine outputs 150 ps with 350 Nm of torque. All engines are matched to a 6 speed manual gearbox, Automatic transmissions are an optional for the gasoline engines.
Meanwhile, I'll just be sitting here waiting for the Honda Fit hybrid release date to be announced...
full press release and photos: Honda Accord 2008 [eurocarblog.com]