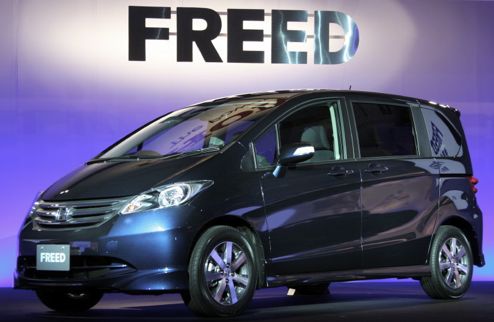 I guess if I keep kicking the family car decision down the field long enough, I could get my beloved Mercedes A-Class--in the form of the new Honda Fit. which'll go on sale as a 2009 model later this year.
Of course, then I'd want a diesel, which won't come, so I'll want to wait for the hybrid...

And I might be tempted to hold out for the three-row MPV based on the Fit, known in Japan as the Freed, which seats 7 or 8 [really?] yet is somehow 10 inches shorter than the Civic.
But then, why would Honda introduce a Fit-based 3-row, when they're leaving the third row out of the Civic-based MPV, the Stream when it comes to the US as a 2009? [aftermarket, perhaps?] What's up with that one? [besides looking like a fugly minivan from the back?]
Forget the motorized wheelchair and balloon dog photos, show me that thing carrying a stroller: Honda Freed: a new compact minivan[sic] [nihoncar via jalopnik]