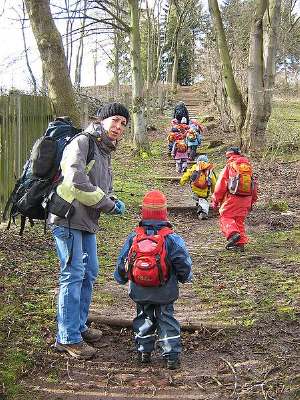 I went to the woods because I wished to live deliberately, to front only the essential facts of life, and see if I could not learn what it had to teach...
- Henry David Thoreau
I'd say I must have been living in a cave the last few weeks, but then, if I'd been living in a cave, I probably would have known about the German outdoor kindergarten concept called Waldkinder [wild child. seriously.] [forest, seriously, I need to stop getting my info online.] or Nokken [presumably no relation to the early 80's heavy metal band Dokken, though the lyrics of "Breaking the Chains" make me wonder.]
Allison Arieff mentioned Waldkindergartens on her NY Times design blog, and while the US translation so far sounds a little hippie dippie, in its natural habitat of Europe, it sounds kind of awesome. Since 1993 when they were accredited to receive state childcare subsidies, over 450 outdoor preschools and kindergartens have opened in Germany. [The concept was first developed in Denmark in the late 1960's.]
Basically, kids spend all day outside, poking around the forest, rain or shine. The curriculum's all nature-based. The class goes inside, too, when necessary, but mostly, it's all sticks and mud and animals and whatnot. They're also called forest kindergartens.
There's at least one Waldkind inspired school in the US now, which is run by a Waldorf school in Lake Oswego, Oregon. They have kindergarten and pre-school on a farm. I'd be interested to see a city version of this, which would still have the benefit of letting kids be outdoors most of the time, but which would probably sound like heresy to the stream-fording crowd.
update from the comments on just what I was wondering about: "The daughter of a friend [who is in waldkindergarten] now refuses to use the toilet at home and goes out in the family's garden whenever necessary...."

Here are some links, mostly from the Mothering.com thread Arieff quoted:
Waldkindergarten: Outdoor preschool/ wood kindergarten [mothering.com]
Wood Kindergarten [wikipedia]
"organic porridge" snacks: Kids can be kids at Mother Earth Kindergarten [lakeoswegoreview]
Mother Earth is run by Shining Star School [shiningstarschool.com]
image above of the little arctic explorers from Waldkinder Ilmenau [waldkinder-ilmenau.de]