The ICFF was hopping on the first day, Saturday, but for all the buzz, I couldn't help wondering how it compared to the blowouts last year at CNC Router Expo '07 and Laminated PlyFair. And it wasn't just the kid designers, either.
The Norwegian firm Kloss [above] was showing one of the most varied collections of the genre, three different kids chairs by Ole Petter Wullum. For some reason, they didn't bring Wullum's [Petter Wullum's? Where to Norwegian last names start?] cool Puzzle stool [above] or the matching table, too. Kindergartens in Norway must be little design paradises where kids sit on furniture they built themselves and draw the aurora borealis or design cell phones or something.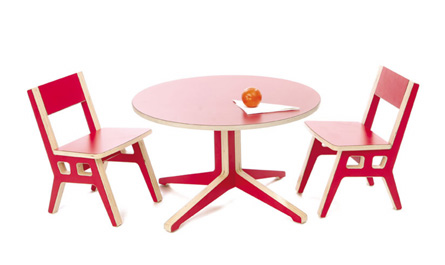 The kid's chair on view at Context Furniture's booth deserves a better picture than the one I took. The Truss Collection is designed by Scott Klinker, and it's one of the mainstay lines Context uses to keep their make-to-order production facilities busy. Context has the added benefit of being in Detroit [1], the city in America with possibly the greatest combination of urbanity, industrial-scale space, and creative production opportunity. It's hopping. The Truss chair runs $150/ea., and the table is $295.
Link Studios is a San Francisco-based collaboration between two designers, Charlie Sheldon and Dylan Gold. Sheldon's designs for slot-together furniture are "mass-customizable" in their dimensions, the laminate, the substrate, and any surface etching or designs. The benches and table they were showing at ICFF were FSC ply with Formica, for example.
I put the "mass customizable" in quotes because Link's offering really points up the potential and the limits of this increasingly widely available production technology. Sheldon told me how much work had to go into refining the designs so that they'd actually work across a wide range of dimensions. But though it's all automated, the CNC process doesn't really provide much opportunity for mass-production-style cost savings; the furniture is still made to order one at a time. Which is another way of saying, a table and bench set will run you around $6-700.
Meanwhile, check out the sweet Little House on the Prairie painting on Link's website. I want to know more, much more.
Kloss [kloss.no]
Context Furniture [contextfurniture.com]
Link Studios [linkstudios.net]
[1] there seems to be a question among Detroiters about how far out in the suburbs you can be and still be in Detroit. Jim [JDG] of Sweet Juniper, who lives in the downtown of downtown Detroit, is of the view that Royal Oak is a bit too safe to capture the full monumentality of the urban ruination. The Context folks, who operate out of the city's first mall--a, over-engineered repurposed artifact of a slightly different genre, which apparently includes underground loading docks for semis to accommodate retail on an industrial scale--might point out that 2,000 sf of studio space is still $300/mo in neighborhoods without packs of feral dogs, too. The only thing I'm sure of: as a guy who only visits Detroit via Google Maps, I got no credibility in matters of Detroit realness. Also, that we can all agree that mayor is batshit crazy. He's also more than two decades younger than Marion Barry was when the bitch set him up. Even if he goes now, Kilpatrick's gonna be back.