After debuting as an organic modernist sculptor in the 1950's, Philippe Hiquily became the Surrealist Metal Furnituremaker To The Stars [of the French aristo jet set] in the 1960's and 1970's. For example, the limited edition coffee table, "Poupouce," in aluminum & glass, with a lyrically curved figure whose pose evokes the elemental physicality of mud wrestling or the delivery room, if not Sixteen Candles.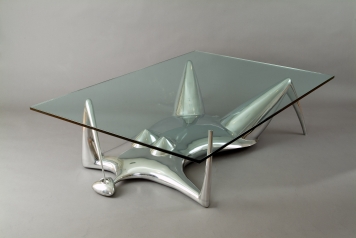 Whichever comte and comtesse were having a baby in 1987 must have been dear, dear friends, because Hiquily made them this insane bronze bassinet as a present.
After years of repose and service, the bassinet turned up--voila!--in 2005 in the design sidebar at Art Basel Miami Beach. Whether it's that same dealer or her Netjetting client who put the crib up for auction at Wright20, I can't say. What I do know is that on May 20th, you, too, will have a shot at six months of off-le-hook bassinetage, followed by years of wondering what the hell you're gonna do with this thing.
581: Philippe Hiquily bassinet France, 1987 bronze, est $30-50,000, May 20 on eBay Live [ebay, also at wright20]
Philippe Hilquily, "Poupouce" table, edition of 12 [galerieyvesgastou.com]
Related: Thanks, Uncle Keith! The Haring Crib--at Christie's this Wednesday!
Previously in insane French cradles:
Napoleon's kid's cribs; Jean Prouvé cradle; and, oh yeah, Philippe Pradalie's 1971 Berceau-fleur plastic flower petal cradle