I noticed that a neighbor in DC recently bought a VW Phaeton, and since every other house in our DC neighborhood has either a Volvo wagon, a Mercedes wagon, or a Passat wagon in front of it, the walks to the playground or preschool give me a chance to wonder what a Phaeton station wagon might look like.
This was not what I had in mind.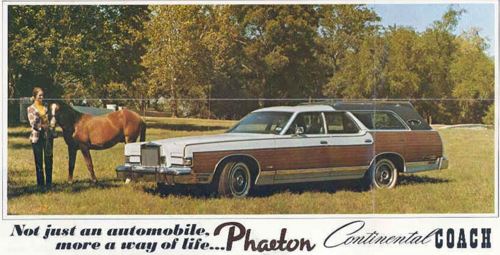 Apparently, I'm the first person in 35 years to ask this question. That's about the time the Eagle Coach company of Dallas, Texas introduced the Phaeton Continental Coach, a walnut&fur-trimmed station wagon conversion of a Lincoln Continental. [Seriously. "The interior of the Phaeton Continental Coach features solid walnut window sills, padded vinyl covered roof and rear pillars with opera windows, and for added luxury, genuine moulton fur carpeting."]
Still, a brochure from a random [to me] coachbuilder makes me wonder if a Phaeton wagon conversion is not so far-fetched after all. I mean, isn't a Phaeton half-Audi A8 and half-Bentley, anyway? And those are both available in wagon format... oh, wait, there's no Audi A8 Avant?
The scan above came from eBay seller Autolit, where the Phaeton Continental Coach brochure recently didn't sell for $35. Possibly because it's not selling here for $15, either.
Related: 2001 Audi Avantissimo concept [supercars.net]
2006 A8 Avant concept shots [auto-motor-und-sport.de]