So obviously, I found this photo of Keith Haring hanging out in Kenny Scharf's apartment while searching for more info about those Keith Haring cribs. Apparently Haring wasn't the only out-of-control surface-filler in the gang.
As he recounts it, Scharf met Haring at SVA in 1978, and began customizing appliances [like that waffle iron and blender, I suppose] under the pseudonym Van Chrome in 1980. I don't know when Haring started making t-shirts, but I bought that yellow Swatch in 1984.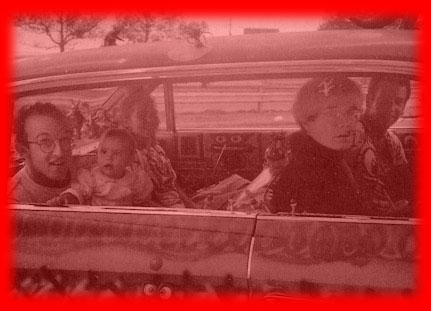 Which means that not only is this picture taken after Scharf became a father [and asked Haring to be the godfather to his daughter Zena, the pic above is of the Scharf familia, with Uncle Andy riding shotgun (via)], it was at least two years after Eddie Murphy's history-making appearance on SNL as Gumby.
And yet that chair--if it is a chair--looks homemade. If it's not a chair, it should be, because it'd be a bit cooler than Haring's own kid-sized designs.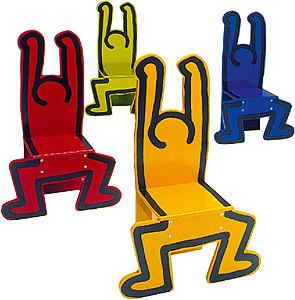 Previously: Keith Haring kid gear