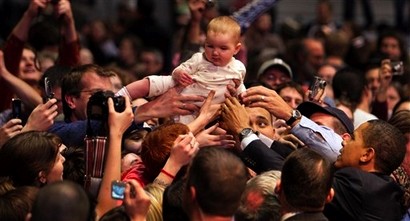 Alright, you have to admit, AP photographer Alex Brandon's shot of 8-month-old Natalie Pankratz-Osborn surfing across the mob at the Barack Obama rally in Missoula, Montana today is pretty awesome. As an aficionado of presidential imagemaking and as a dad, it's thrilling, but for two different reasons: one, it's a great shot. I love all the other cameras in the crowd focusing on the baby as much as they do on Obama. As a dad, though, my first thought was that it looked a little precarious. But since I know something about how such images come together, I wanted to hear what the experience was like from the dad's perspective.
So I emailed him. His name's Scott Pankratz, and he and his wife are conservationists and educators. I've always thought I knew why politicians want to kiss babies, but until now, I've never heard a more inspiring explanation of why a parent would hand their baby to a politician:
DT: Wow, what is going on in that photo?? It looks like you're about four people back from the ropeline. Is that how it felt at the time? What was going on before and after the shot? [Also, is that you in the blue shirt, or are you somewhere else?]
SP: Yes, I'm in the blue fleece. I'm 6'5" and was about 4 people back. I was holding Natalie up and Barack noticed and made a little motion towards me. The crowd parted just enough for me to make the hand-off. Since I'm tall and have long arms, I could reach all the way and see her the whole time. I've attached a picture with a little red arrow to show you where we were watching the speech from. [photo by Rob Jensen]


DT: What brought you out to the rally today?
SP: We just wanted to listen to Obama. He'd been my favorite, but hearing him today clinched that feeling. He's inspirational, he's positive, he's got real charisma and hope for what's to come. I want someone to address the things that are going to make our tomorrow a better world for our kids. Big things that need to be headed off, dealt with, and proactively addressed like global warming and the environment, this war, health care, and education. Bush is running us all into the ground in all of these arenas and we need someone with a new vision.


DT: Did you have plans to have your baby kissed, or was it an impromptu thing?
SP: Impromptu.


DT:Does the experience give you any insights into the whole politicians & babies phenomenon?

It just seemed like fun and a cool thing to have our baby in the arms of a president. I think that's the whole draw. Well, actually, maybe there's something more to it... there is something special about trusting other people to care for your kids (baby sitters, friends, other care givers), and the reality is that in many ways a future president is going to have a big say in your children's future. I trust Obama to make good decisions that will affect my daughter's future. That's a big thing. Maybe that's a part of the politician/baby phenomenon..
Thanks to Scott and his family for the great story.
For another perspective on the crowdsurfing shot, check out this video, taken by someone standing just to the left. [You can see the guy in the blue baseball cap in both the photo and the video.] The Handoff happens around 45 seconds in, when you hear the crowd roar.
Crowd surfing baby [youtube]