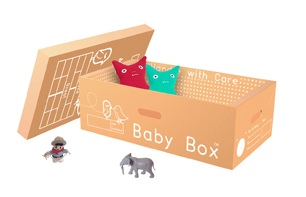 In 2001, British designer Andrew Stafford created the Baby Box, Archive and Crib, mk.3, which I assume pertains to the third version. [James Goggin is credited with graphic design on mk3, while Paul Elliman and Alex Rich did mk1 and mk2, respectively.]
Anyway, where the conventional designer would create a crib that conerts to a toddler bed, and then a never-to-be used "daybed," which we all know is just code for, "too big a piece of furniture to throw away, also, what if we have another kid?" Stafford took a more daring approach. After the Baby Box served its time as "a temporary [moses basket]," Stafford wrote, "it becomes an archive for [the kid's] childhood memories." In other words, the box converts to a box. BRILLIANT!
In Jan. 2003, Jasper Morrison praised the Baby Box thusly:
...it restores hope in a better future for design in which practicality prevails over personal statement."
Of course, in the future, Morrison designed a whole line of furniture made to
look like crates
. Guess he wasn't taking any chances.
Also, do those dolls look like Ugly Dolls to you? Just wondering.
Baby Box, Archive and Crib mk.3, 2001 [andrewstafford.com]
Previously: Now that's a Baby Box: Cardboard Rolling Crib by Album di Famiglia