It took me a while to track down this slick-equipped walker, which Jyri, the Miyake wedding guy photographed at Habitare, the design expo component of Helsinki Design Week. [Seriously, where'd this (City Name) Design Week empire spring up from? And what happens when the 53rd city wants in on the game?]
Turns out it's called the Concept Esla GT, and it's by Ville Hakanen, a student at the Turku U. Applied Sciences Dept. At first I thought it could be a kids product, but that's just because is reminded me of the old hotrodded-up Samsonite Mini-Bike.
But no, it's for old folks, aging Finnish baby boomers, I guess, who are reluctant to become customers of project sponsor Esla, the venerable southern Ostrobothnian mobility assistance company which began making kicksleds in 1933. [Read it yourself. You think I could make up Ostrobothnia?]
The clue to finding the scooter, btw, was that white, wheeled corner of something peeking out of the top of the photo. Core77 had a photo of Cubo, the ball pit chair, which was designed by Tuomas Pykko.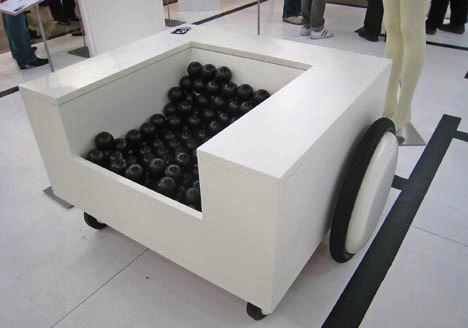 Fix those sharp edges and corners in advance of the inevitable diving games a ball pit chair would inspire, and I think Tuomas might have something there.
Core 77 galleries for Helsinki Design Week 2007 [core77.com]

Turku U, O Turku U, your site's all in Finnish, I don't have a clue! [turkuamk.fi]
Previously, and somewhat related: Valentin Vodev's Roller Buggy, a car-seat equipped scooter at--where else?--London Design Week '06