In Mimi Maternity where we lay our scene...
You know what, life's too short and I'm too busy, so while I'd like to retell the entire BabyPlus saga in Shakespearean verse, I'd rather just be done with it. Hopefully you'll get the point that the BabyPlus is created by lying hucksters who, for decades, have used misleading pseudo-scientific jargon to sell trusting-but-clueless new parents an ever-shifting pile of unsupported promises--a $2 Buddha jukebox--for $150. It's a scam which brings them at least half a million dollars a year.
The larger point, of course, and the reason I think I've been so pissed off at the seemingly bottomless pit of BabyPlus quackery, is that it's so representative of how the Baby Industrial Complex manipulates parental fears, insecurities, and expectations. Since about 2000, BabyPlus has been sold in the stores of the $575-million/year maternity wear conglomerate, Mothers Work [NASDAQ MWRK], which owns basically every maternity store in the country [that's not in Chapter 11 right now]: Mimi Maternity, A Pea in a Pod, Motherhood Maternity, and Destination Maternity.
BabyPlus president Lisa Jarrett's husband stands at this intersection of small-time, crackpot inventor-driven quackery and maternity mall monopoly. His name is Dr. John Jarrett, and unlike BabyPlus inventor Dr [sic] Brent Logan, he's an actual doctor, an MD, even. He runs a fertility clinic in Indianapolis called Jarrett Fertility Group. According to Lisa's BabyPlus founding myth, he was the one who read about Logan's system in 1990, and got it for his then-pregnant wife.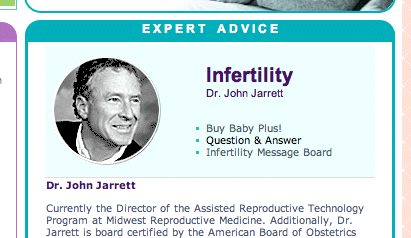 He is also the online Infertility Expert for Mothers Work, both for their new Destination Maternity superstore and their pregnancy portal site, Maternity Mall. See if you can spot the out-of-specialty endorsement and undeclared conflict of interest in this infertility expert's first and last pieces of advice:
"Buy Baby Plus!"

...

"Dr Jarrett also strongly endorses the use of BabyPlus, a Prenatal Education System" [full screen capture of his bio]
Yes, a prenatal education system
his family owns.
Finally, speaking of website bios, the last time I posted about Dr [sic] Brent Logan, it was to expose his credential-faking. He claimed to have a PhD from the University of Washington; a check with the university registrar showed he did not. He responded to this revelation by changing his bio on BabyPlus:
...he was awarded a developmental psychology Ph.D. from Somerset University, Ilminster, UK, specializing in human fetology; his dissertation was "Neurogenetic Effects of Sonic Imprinting."
Don't be embarrassed if you haven't heard of Somerset's Human Fetology department before; Logan's probably the only graduate.
According to CredentialWatch.org
, Somerset, Ilminster was a mail-order diploma mill which was subject of a 1988 crackdown by the UK government's Office of Fair Trading for fleecing foreigners [It was apparently illegal for them to claim to issue degrees in its own country.]
"Tell us what you think of Expert Advice! [destinationmaternity.com]