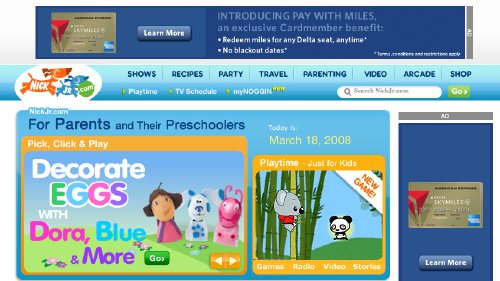 NickJr.com with Delta/AmEx ad, for when you're feeling not so fresh, I guess
Viacom division Nickelodeon unveiled the first of 600 new online games designed to strengthen "the brand affiliation" and to deliver young eyeballs to advertisers, including the poor food companies, who had no way to reach kids after they promised to limit their TV commercials.
The first $100 million is being spent on "a series of customized sites for different age groups (preschoolers, tweens, teenage boys, moms)." Teens go to Nick.com, while "The youngest players of all are welcome on the sites of Nick Jr. and Noggin, where games are meant to be played by children 'on the laps of their moms,'" according to Cyma Zarghami, president of MTV's Nickelodeon & Kids Group.
Nothing to see here, dads, go about your very important work, while NickJr.com and the friendly folks at Cinnamon Toast Crunch help train your child to "want to be Dora."