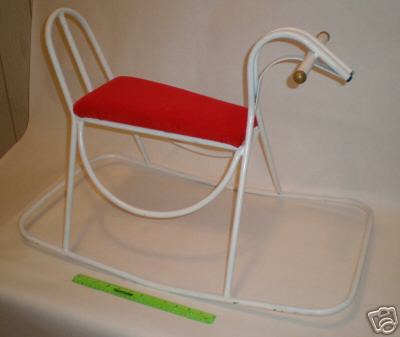 I would love nothing more than to get a gloating email from someone next week explaining what an incredible deal they got on this thing, and how could I not recognize this ultra-rare, tubular steel rocking horse that Giorgetto Giugiaro made for the Sultan of Brunei's 24th son's 4th birthday in 1973??
According to the eBay seller, the horse "is not marked but I believe it is Italian in origin and from the 1960's.." If I had to guess based on that seatback, I'd say it was probably Chinese-run taqueria in Riverside in origin from the 1990's...
Still, it's your $110, your call.
childs Rocking Horse: eames panton creative playthings, auction ends Mar. 18, opening bid $79+ $25-40 s/h [ebay]