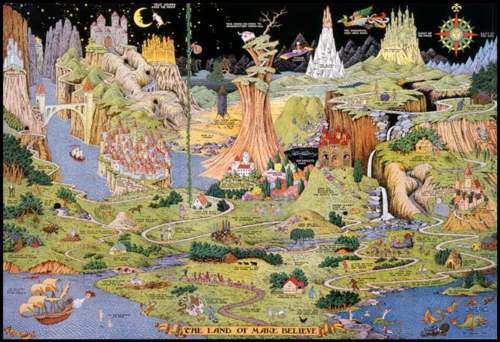 In 1930, Czech artist Jaro Hess' painting, "Adventure in Storyland," which offered a dazzling Grand Unifying Theory of the world's fairy tales, was turned into a poster by The Child's Wonderland Company of Grand Rapids, Michigan. It's been reissued by various companies over the years; apparently the copyright's currently held by Hagstrom Map Company, who licensed it to Rosen-Ducat, who's reprinting it again.
It all sounds so straightforward now, but maybe that's because I haven't spent years since my childhood trying to track this thing down, like DT reader Chris did:
My mom bought this amazing giant map/poster of "The Land of Make Believe" around 1970, and I grew up with it hanging on my bedroom wall. The scenes
and characters from it are etched in my brain, although sadly Mom gave it
away to a daycare center when I was 10 or so. (About once a year since
1997 or so, I've done Google and eBay searches, and I always ask in poster
shops if anyone had ever heard of the poster - since I didn't know the
name of the illustrator - just that it was lebeled "The Land of Make
Believe")...It's neat to see something like this where the characters
come from a time before Disney "standardized" all fairy tale imagery. Of course I've ordered a reprint, so I can at least give my younger son the same nightmares I had...
Disney or Shrek.
RDI sells two 24.5 x 36-in. versions of "The Land of Make-Believe," $65 or $95, depending on the type of paper. The freak-out effect is probably the same. [jarohesslomb.com via basic joy, thanks dt reader chris]