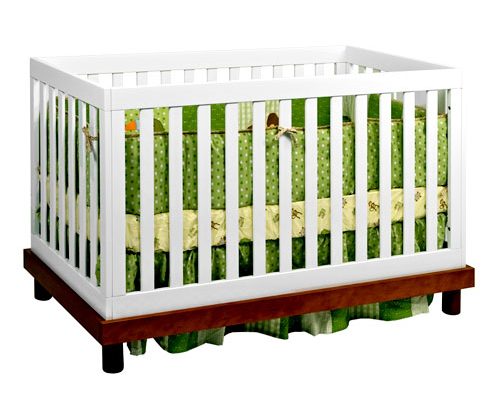 Wal-Mart's got another set of modern-style nursery furniture. The first Modern Nursery collection they stocked from BabyMod wasn't really modern; the manufacturer, Million Dollar Baby [which also makes Da Vinci furniture], just went for a a Netto-in-a-fog look by mixing & matching finishes from some of their less curlicue-encrusted products.
I guess it sold, because for the Olivia Collection, they've gone all out with an all-new design. At least it was new when Sophie and Michael came up with it at Oeuf.
At $300, these BabyMod pieces are almost twice as expensive as Million Dollar Baby's other lines. Even so, it took a lot of compromises to get an Oeufy crib at that pricepoint; the legs are wood, not metal. The mattress platform around the base--wait, that's not actually a base, just a molding. The platform/spring is separate. And adjustable! Why doesn't Oeuf do that? Because as you can see above, it looks totally weird, and if you ditch the dust ruffle, it'd somehow look even weirder.
I think this counts as the crib version of a fake Louis Vuitton purse, only it's not being sold on a street corner, but in the biggest retailer in the world. And if you think there's no difference, then go for it.
Baby Mod - Olivia 3-in-1 Crib, Amber and White, $300 [wal-mart via ohdeedoh]
Previously: Attention Wal-Mart Non-Shoppers! Modern Nursery Collection??