If their rabidly crafty fans keep up this pace, Yo Gabba Gabba! may never need to bother putting out actual merchandise at all; instead they can be like PBS painting guru Bob Ross, making mad bank by selling raw materials--paints, t-shirt blanks, fabrics, glue, silkscreen kits, and a single, giant googly eye--and letting the audience do the rest.
Check this out, from Yo Blogga Blogga, the YGG! production blog: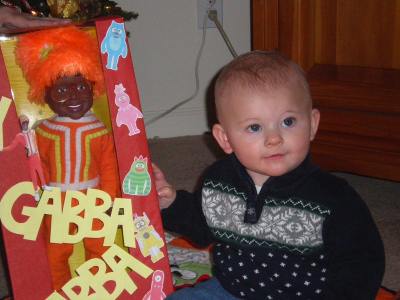 Some crazy kids on the MySpace made their kid a DJ Lance Rock doll. Made it Mint In Box, too. [Also made it look like Buffy's doll Mrs. Beasley was stepping out on Mr. Beasley with the black G.I. Joe doll, but that's not really our business.]
Oh, and is that a handmade YGG! quilt that baby's sitting on? Who's making this stuff? They're not Amish because then they wouldn't even have TV, much less cable. [And there are clearly two plugs above that kid's head.] Wait, are those handsewn dolls, too? At what point do we call for an intervention? When they make a perfect replica Lance Rock hat?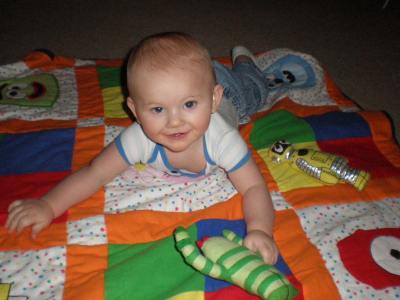 Now these are a ringer, but too awesome to pass up: two pairs of hand-painted Vans with all four character lands on the vamp. In. Sane.
They're by an artist named Grik, who is in the OG OC ska band GOGO13 with Yo Gabba Gabba! character designer Parker Jacobs. Who is co-creator Christian Jacobs' brother. GOGO13 made the new anthem around our house: "Pick it up!" for the show, too. And from the look of his non-shoe artwork, Grik did the animation.
Q: What do you do when there's not enough Yo Gabba Gabba merch out there? [brobee.blogspot.com]
Cook Kicks [brobee.blogspot.com]
Related: GOGO13 blog and Grik's flickr stream
Hey, there IS a Yo Gabba Gabba! store, with iron-ons and Party In My Tummy T-shirts! [yogabbagabbastore.com]