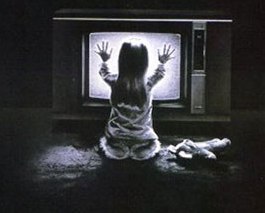 Lost in the over-earnest debate about the supposed educational value of Baby Einstein videos is any sense of the innocent, dewy-eyed days before the American Academy of Pediatrics recommended no screen-based media for kids under 2-yo. before those damn "scientists" started actually studying babies and TV and started turning up evidence that not only is there no benefit to "educational" programming, screen media may even have developmental disadvantages associated with it.

Just like the days when Camel advertised its cigarettes as the brand doctors like to smoke best, there was a time in the early days of the Baby Einstein era, between its founding in 1997 and its sale to Disney in 2001, when the company's message and mission were perfectly clear.
Looking at the company's old websites and press releases preserved on the Internet Archive, the educational tone and claims made by the company's founder, Julie Aigner-Clark, are as enthusiastic as they are unsupported. The one thing that remains the same is the "watch it together!" pitch. ["[Baby Einstein] is not meant to serve as a 'video babysitter' for a child, but as an interactive tool for parents to use with their children."]
But even then, the company knew what people were buying the stuff for. Just check out the ecstatic parent testimonials which no doubt gave Disney a sense of Baby Einstein's addictive power. ["She started watching them at 5 months old is still just as mesmorized (sic) as she was the first day. Doctor's should prescribe these videos for colicky babies!"] After the acquisition, the videos' supposed medical and hypnotic benefits disappeared in a cloud of pixie dust.
After the jump, Aigner-Clark's announcement of Baby Einstein: The Video, and some parent testimonials from 2000, not even the craziest ones, either:
Lest anyone think that the Baby Einstein educational claims debate is a tempest in a teapot, or much ado about nothing or whatever, here is the original press release announcing Baby Einstein, the video:
Baby Einstein, unique multilingual developmental video for infants, released at Atlanta Maternity Fest Intelligence

(ATLANTA, Ga, February 1, 1997) - The Baby Einstein Company today announced the release of Baby Einstein, the first developmental video to combine visual and linguistic experiences that facilitate the development of the brain in infants ages one to 12 months. Baby Einstein was created by Julie Aigner-Clark, a stay-home mom and former classroom teacher.

"When my daughter was born, I became intensely interested in the research available on the development of infant intelligence," said Clark. "Baby Einstein is a combination of what worked with my daughter during her first year and the research I studied."

Baby Einstein is a collection of 49 "developmental experiences" showing the motions of visually stimulating toys and objects and sequences of patterns and photographs. In addition to music and natural sounds, the audio track includes passages spoken by mothers in their native languages of English, Spanish, French, German, Hebrew, Japanese and Russian.

The inclusion of linguistic stimulation is an important one. According to cognitive research, dedicated neurons in the brain's auditory cortex are formed by repeated exposure to phonemes, the unique sounds of language. Studies show that if these neurons are not used, they may die. Through exposure to phonemes in seven languages, Baby Einstein contributes to increased brain capacity.

Baby Einstein has roots in important cognitive research. It is not meant to serve as a "video babysitter" for a child, but as an interactive tool for parents to use with their children. "I call my videos 'video board books,' because parents can use them to teach words and concepts to their children as they enjoy the tapes together," said Clark.

#####


About The Baby Einstein Company

The Baby Einstein Company is dedicated to the development of products that contribute to the intellectual growth of infants. The company was founded by Julie Aigner-Clark, 32, a former teacher of English and psychology. In addition to developing and marketing her developmental videos, she is a stay-home mom that enjoys the parenting challenges of raising daughters Aspen, 4, and Sierra, 1.

For more information, contact:

Julie Clark
303-706-9858
jclark@babyeinstein.com
Meanwhile, from t
he "Real Stories" collection of Baby Einstein's circa 2000 site
, comes the sweet, soothing, "mesmorizing" reality: there's not a single developmental benefit to be seen that couldn't be there anyway ["He learned the Alphabet Song before he was 2!"] You know what, I can't not include the whole set. But those kids can sure stare at a screen and recognize a toy; I have to include the whole thing. Who knows how long that Internet'll be around:
2000-10-14 Tempe AZ
I received the Baby Einstein tape as a gift from my cousin. She told me how much her son loved watching this video. I could not believe that an infant would sit and watch a video. When I had my children there was no such thing. I exposed Micayla, my granddaughter to Baby Einstein at 1 week old. Her and I watch it at least 3 times a week. Baby Einstein is her favorite. I just have to say, "Micayla do you want to watch your Baby Einstein movie?" And she replies with a nod and claps her hands. She now is one year old and knows the video by heart. (And so do I) Thank you.

2000-10-13 Rancho Cucamonga CA
I recently had to write to Julie and tell her Thanks first hand. I am utterly impressed with these creations! My girlfriend purchased "Baby Mozart" for my son when he was 3&1/2 mo. old at the advice of a mutual friend. Her son was the same age as my son, and had been enjoying Baby Mozart for months. So, curiously we had my son watch it. HE LOVED IT! He has been watching it daily for 3 months and I don't think that I could have taken a shower the last few months if not for "Baby Mozart"! He love the "castle-pounder" and "blah!" from Bard the most. He started to giggle when he saw the castlepounder for the first few time. I though it was just a fluke, so I rewound it a few times and sure enough! He laughed each and every time! AMAZING! Now he has basically memorized the entire tape. So I purchased the DVD gift set of all 3 (Baby Bach, Mozart and Einstein). I am very pleased with them so far and can't wait for him to love the other two like he loves "Baby Mozart". I love all the added features to the DVD format(flashcards,different language mode,concert mode) I am forever grateful for these treasures and give them to all my friends that are expecting. And I of course have to tell everyone about these great tapes/dvds because every child (and parent!) should have at least 1! Thank you! Keep up the good work!

2000-10-06 Lafayette
Simpy put, these videos are miracle devices for calming a cranky, fussy baby. My husband and I are still in awe at the way in which these videos instantly satisfy our 10 month old even in her worse moments. She started watching them at 5 months old is still just as mesmorized as she was the first day. Doctor's should prescribe these videos for colicky babies!

2000-10-04 McCallsburg Iowa
When I first saw an ad for these videos I thought the idea was a little silly. After my son was born he suffered from colic and I spent many hours walking, singing, and trying to calm him. He would settle down for a while if he was distracted but would soon start crying again if I stopped holding him or talking to him. This was very difficult since I also have three other children. I bought the Baby Bach video when he was around 2 months old and thought it might calm him down. The reaction he had the first time he saw the video was amazing. His eyes never left the television screen and he was actually smiling. He's now almost 4 months old and he coos to the videos and kicks his feet during his favorite parts. We have also purchased the Baby Mozart video and it gets the same response. They work wonders when he is cranky or overly tired. We are looking forward to adding the other Baby Einstein videos to our collection.

2000-10-01 Salinas CA
I joined a parenting board online when I was pregnant, many of the women could not stop talking about Baby Bach, Baby Mozart and Baby Einstein. Once my son was born I had to see for myself. I purchased Baby Bach and Baby Mozart and played them for him. All of the wonderful comments those ladies on the board said could not have been more true. James was mesmerized by the music and images. He is now almost 18 months and still watches them almost daily. A couple of weeks ago I purchased Baby Shakespeare, he said "Apple" the next day! He loved it. He is usually very active but while watching the videos is always glued to the images. He dances and talks back to them but in a quiet way. I purchased Baby Van Gogh today and he just wants me to keep rewinding! I always tell any pregnant women I know about the videos. They were definitely the most important purchases I made for my son. Thank you!

2000-09-30 columbus ohio
I bought the Baby Mozart tape for my son for Christmas last year, we have since bought all of your videos for him, he loves them!! We are always anxiously awaiting your new products. We especially appreciate your attention to children with special needs, Garrett is 10 months old and he has down syndrome. Thanks!

2000-09-24 Mechanicsville VA
We received Baby Mozart as a gift when our son was born. By the time he was a month old, he was hooked. If he was cranky or tired, we'd put on the video, and he would calm down immediately. When he refused to eat solid food, we put on the video, and he was so immersed, he would eat until the video was over. After that, we purchased Baby Bach and Baby Einstein. He loved them just as much. When we bought Baby Shakespeare, he kept asking for us to read the book at bed time. He now loves poetry. He learned the Alphabet Song before he was 2! He also loves his Baby Webster flash cards. Dylan just loves his "Baby Goat" video, and he asks for it all of the time. He says the colors along with the video, and gets the biggest grin on his face. He even sleeps with the puppets! I am so glad that I didn't miss out on this one. I have purchased these vidoes for friends with newborns, and I can't help but let others in on this fabulous set of products. Thank you!

2000-09-18 Atlanta GA
Your videos have saved my life. My daughter absolutely loves all of them. We have all except "Van Gough" which we hope to get as a b'day gift in a few weeks. These videos are not only stimulating to the children but I am hooked on them myself. I find them just as relaxing as Hannah does! What a great idea. I hope there are more to come. Thanks.

2000-09-17 Ramsey NJ
My 8 month old daughter Kaitlyn loves watching her Baby Mozart, Baby Bach, and Baby Einstein videos. I bought Baby Mozart when she was 2 months old and it helped to calm her during those first few colicky months. I then added the others to the collection. Even now my husband and I are amazed at how focused she is when the videos come on and NOTHING can divert her attention! As soon as the opening credits begin, she gets a huge smile on her face and and bounces up and down. The videos are wonderful and I plan on getting Kaitlyn "Baby Shakespeare" next. Thank you so much for such stimulating and entertaining videos!!

2000-09-15 Hackensack New Jersey
Dear Julie, All I can say is Thank You, Thank You, Thank You! My son Steven is 9 months old and has been enjoying your videos from 3 weeks of age! It has been truly amazing to see him get so excited when I pop in the video and he hears "Enjoy the Show!" I can't tell you how many hours in total we have spent as a family watching your videos but I can tell you that it is a very special and important part of our day. I have told every mother-to be that these videos are a "MUST HAVE". Please continue to make these wonderful educational tools-we can't get enough!

2000-08-15 Hayward California
The Baby Mozart video was a lifesaver!! I am a single parent and I believe I have a high-need child. Joshua at 10 months old would not let me get ready for work in the morning. He would cry the entire time I would be in the shower. He would scream and bang on the shower door. After my shower he wanted to nurse and he didn't play with his toys and let me finish getting ready for work. It was very stressful! I had no one to help me. I asked my mother to buy the Baby Mozart video for his 1st birthday (my girlfriend who also has a baby recommended Baby Mozart) and the very next morning I played it. What a miracle! I'm not kidding! He sat still staring at the TV. His eyes wouldn't leave the TV screen. I could go and take a shower, drink my coffee in peace while getting ready for work. I was so thrilled with Baby Mozart I ran out and bought Baby Bach. Now I will go and get Baby Shakespeare. Thank you Baby Einstein, you have made my mornings peaceful.

2000-08-11 Lakeland FL
I am a stay at home mom with three children ages ranging from 8 years to 10 months. My oldest son loves to sit and "teach" my 2 1/2 year old and my 10 month old all the shapes, colors and toys. He has explained what all the toys are doing. My 10 month old is just amazed by them all, and my two year old has named all the puppets. We have all the tapes, and flash cards. I take the cards with me everywhere we go. I have just ordered the Baby VanGogh, and can't wait for the mailman to bring them! Thanks for your wonderful teaching tools that works for all ages!

2000-08-07 Miami FL
I bought Baby Shakespeare when my son was about 8 months old. He loved it so much and got so exicted to see the toys and Bard that I bought the whole collection. He is now 11 months old and will ask for the Bach video by name (which is now his favorite). His vocabulary is outstanding (he has started to form two word sentences). This is not only enjoyable for babies but I find it very soothing as well. He recognizes the toys and other objects from the video when we are out. I find it amazing and look forward to future videos.

1999-12-04 Morgan Hill CA
I bought Baby Mozart when Joseph was a baby. I played it for him every day sometimes more than once. I added Baby Einstein and then Baby Bach when it became available. At 21 months of age he asks for these videos every day. When he is tired or streesed he wants to play Baby Mozart. It always calms him. After a nap or in the morning, he likes Baby Einstein. He has always imitated the sounds on the video and now enjoys repeating the words, (in many different languages). I know the video is not to teach a foreign language but he can count in both english and french (we speak both at home) and people often comment on how clear and developed his language skills are. Thank you for great products.