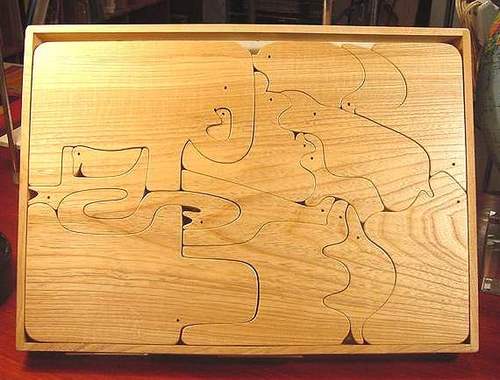 vs.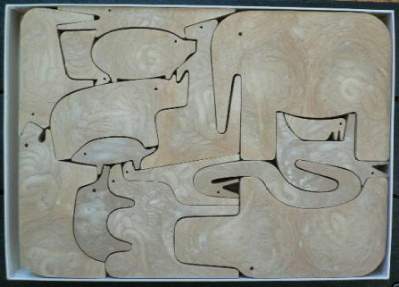 I have to agree with the design gurus at Tokyo's Graphio/Buro-stil on this one: sometimes a copy rises above the level of mere knockoff to attain a remarkable beauty of its own. Like a cover version or a remix that equals or even transcends the original [Any one hummed along to TK's original version of "Blue Suede Shoes" lately? I didn't think so.]
Such is the case with this "16 Animali-ppoi" puzzle created by someone, sometime, somewhere, who knows, which actually stays true to Enzo Mari's interlocked animal concept, only with smoothed out, reconfigured animals. [Japanese lesson for the day: "-ppoi" is like "-ish," as in Enzo Mari-ish.] Check out that bird nested in the elephant's trunk, and the happy inclusion of the baby kangaroo [17 Animali!] Of course, that bear and that rhino should get a room; that's no behavior to depict on a children's toy.
16 Animali-ppoi mono, in natural finish oak, 15,750 yen (sold in 2005, 2006) [graphio-buro.com]
Scroll through all Graphio/Buro-stil's toy and education-related posts [graphio-buro.com]
Previously: Which Enzo Mari 16 Animals puzzle are you talking about?