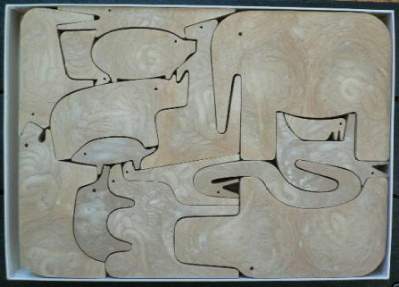 I imagine collectors of Enzo Mari's rather awesome puzzle, "16 Animali," already know this, but it seems like the kind of reference data that's worth filing away. Now when you find an old 16 Animali in a thrift shop, you can identify what version it's from and when it was made.
According to the box of the 1972 swirly woodgrain-looking expandable resin edition of "16 Animali," here are the Produzione Danese versions up to that point:
Original 1957 edition: wood, 34x24x3 cm

1958 smaller edition: wood, 21.5x15.5x1.5 cm

1963 paper edition: pull-out cellular paper, 34x24x0.5 cm

1972 resin edition: expandable resin, 34x24x3 cm

I have no idea what happened between 1972 and the resin edition reissued by Alessi in 1997.

Since 2003, Danese has made a limited number each year of the current version: oak, in the original dimensions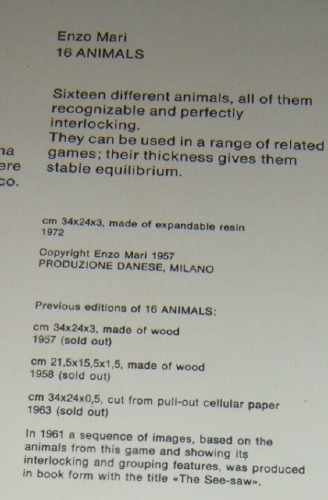 Meanwhile, another way to check which version of 16 Animali you have is to count the damn animals. If there are only five, and a bunch of random shapes, in a box shaped like a house, and it's not signed or stamped or anything, IT'S PROBABLY NOT A 16 ANIMALI BY ENZO MARI. [update from sean: it's not by Mari, but it's a Nativity Scene, made from plans somewhere. Guess I shouldn't have been swearing about it. -ed.]

RARE VINTAGE 1972 MODERNIST ENZO MARI 16 ANIMALI PUZZLE, auction ends Mar. 2, current bid: $16.50+15 s/h [ebay]
UH, OR NOT? Enzo Mari Wooden Animal Puzzle Modernist eames era L@@K, $49 opening bid +$7 s/h