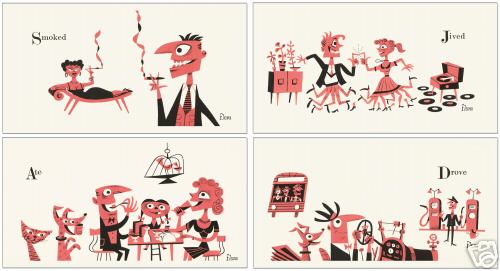 While poking around the Jim Flora Store on eBay, I found another interesting, new release that's worth a mention in these here nursery-friendly parts: modern silkscreen editions of a rare promotional booklet that Flora did in 1954 for CBS TV called, Primer for Prophets: A Flora 50's ABC. It ran through the alphabet, enticing advertisers with all 26 different activities that these new-fangled tv-watchers were into.
The TV kids Ate, Drove, Jived, Smoked... hmmm...
Anyway, the Flora estate is issuing four modern silkscreens at a time, each in an edition of 100. Buyers of early sets get first dibs on matching numbers of the later quartets, to help you complete your set which, if these prices hold up, could clock in at almost $1200. And that's if you buy early. Yowza.
A, D, J, S are out now, and Cooked, Groomed, Kissed & Quaffed are set to drop in a couple of weeks.
FULL SET JIM FLORA FINE ART PRINT PRIMER FOR PROPHETS: A, D, J, S, $175 + s/h [ebay]