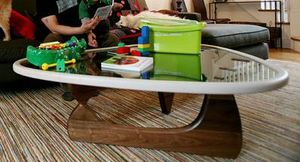 So I read in the newspaper tha having both a kid and nice furniture can be a challenge. Has anyone else heard of this?
For example, these new-fangled Noguchi coffee tables have glass tops, and "Barcelona chairs" are like "razor blades." Huh.
But wait, the sidebar tells another story:
[the mom from Long Island with the fancy living room carpet] has tried to spot-clean things like sneaker dirt, chocolate milk and urine. "The other day he dropped grape jelly," she said. "That was fun."
So you let your kid wear shoes in the house, carry jam sandwiches around, and eat in the living room?
...the couple [who used to live in a Park Slope brownstone] watched in horror as one of Fia's 4-year-old friends fell from the fourth-floor landing down a flight of stairs. "She did a perfect flip in the air and landed on her feet," Ms. McLean said. "It scared me to death. I never told the parents." She and Mr. Stratton came to think that a less vertical space might be more prudent.
Yeah, stairs are so high-design. I hear there's a lot of one-story houses in Long Island.
Clearly, what all these parents need is more blogging; this might be the first designer parenting article in five years to not mention weblogs.
Parent Shock: Kids Are Not Decor [nyt]
sidebar: Lessons From the Intersection of Children and High Design [