Warning: convoluted, punk hipster ramble, combined with 80's and 90's flashbacks, ending with very slightly relevant payoff but realistically, probably none at all ahead: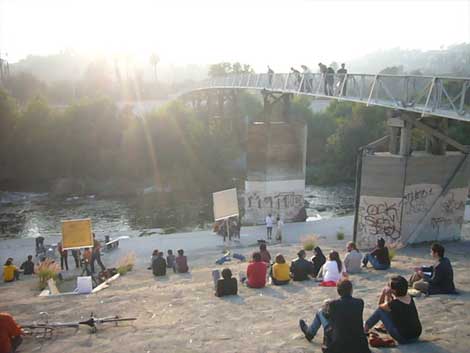 So there was an outlaw outdoor concert on the banks of the LA River last November 19th. About 75 people turned up under the guise of a Friends Of The LA River meeting to listen to the underground punk revival [wow, can I even type that?] delectations of No Age. [Arthur Magazine, which organized the event--ie., either rented the generator or txt all'd the address book in their cell phones--has photos and complete video.]
Though No Age recently signed with Sup Pop [of the Nirvana Sub Pops], they also gig intensely and release 7" vinyl on Teardrops, a tiny label in the closeknit LA scene that centers on the downtown club, The Smell.
The guerrilla concert came the weekend after No Age and The Smell had been written up in the New Yorker.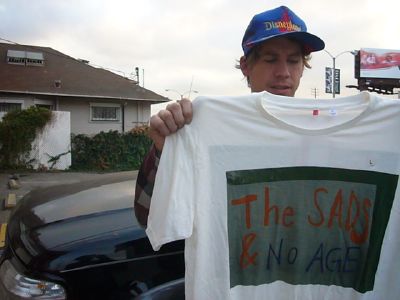 The renegade concert was also ten days after No Age appeared on a t-shirt with another Teardrops group, The Sads, which dropped at the Paper Magazine popup mall, where Teardrops and The Smell shared a booth alongside the Chinatown art/book/whatever store Ooga Booga--and Colette and Marc Jacobs.
The t-shirt was designed by Susan Cianciolo for Uniqlo, aka the Japanese Gap. Susan was the wife of The Sads frontman, Aaron Rose. In the mid-to-late 90's, they ran the awesome Alleged Gallery, which was located in the meatpacking district when the meatpacking district still packed meat.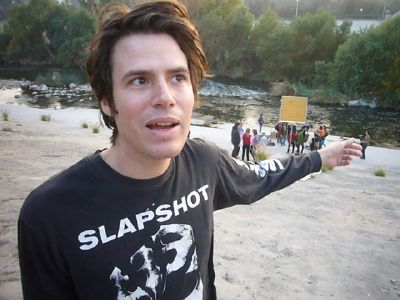 Anyway, the impetus for this post: Teardrops' report of the gig includes this photo. The caption reads,
Andy Coronado stopped by on his way to the hospital. He and Dawn were having a baby and they stopped by! By now he is a Father! Congratulations Andy and Dawn!
Which first made me think, what the hell hospital were they going to that the wilds of the LA River are on the way?? It also makes me think I know what's dangling over little Coronadito's crib.
"esterday around 3pm a generator, a bunch of people and No Age mysteriously showed up at the LA River." [teardrops via cityofsound]
Let It Rip: Punk Rock Flourishes in Los Angeles [newyorker.com]
Check out this shirt Susan Cianciolo did for Uniqlo! [thesads.com]
Previously: There will be poo: Floating Booga mobiles by Sumi Ink Club