Publicists from a couple of auto makers had been eager to get the daddy types to come to the Chicago Auto Show for some reason. But I don't get the kid out of bed for less than a payola-mazing Audi RS6 Avant [though maybe if that cherry 1969 Mercedes 300SEL 6.3 at the M-B Classic Center has the mostly Europe-only shoulder belts in the back, so I can strap the Maxi-Cosi down...
So I asked if DT regular GFR wanted to take a spin around the Show. Stay tuned for some great dad's-eye-view accounts from Our Man In Chicago. In the mean time, Professor GFR has posted a collection of images and commentary to flickr. Some highlights:
One could argue that the entire concept of an auto show centers on toys. These slick little cars in the Saab pavilion show the different paints & finishes: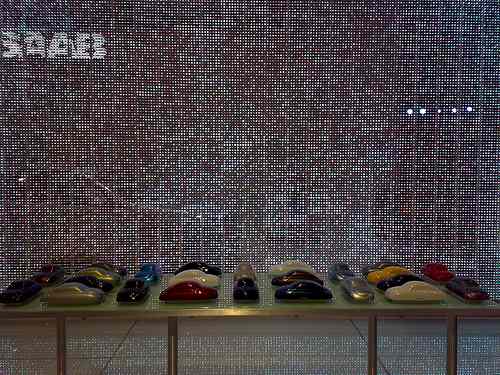 If those paint chipmobiles look like Playsam toys, it could be because Playsam and Saab have a long history. [The kid rolls in a big, ride-on Playsam Saab at her grandparents' house.] Here are some Playsam toys--and a kid-sized Saab track suit for wearing to Caesar's Palace Forum Shops, I guess--embedded in the floor:
Though they're not very useful for hauling the beer home from the store, LATCH anchors turn up in some unusual places:
Hmm, the new VW Tiguan looks like it could use a nosejob, might help it fit in a little better in high school. [GFR: "pretty unimpressive, if mostly because it looked like a KIA."]
The VW Routan, on the other hand, left GFR feeling fairly good. Though it turns out in redesigning--and improving on, arguably--the Chrysler Town & Country's seats, now the second row doesn't fold flat into the floor. The third row still does its magic stowing trick, though. Video at 11.
The surprise winner--or at least non-loser--of the expectations game may be the Chevrolet Traverse, which made its family car debut. The crossover--do they dare call it a wagon? Actually, it looks like it fits squarely into the crossover genre to me--has three rows of seating and looks fine. That rear quarter glass kind of reminds me of the Mazda 9, which should be read as a compliment.
And last, I know it's not new new, but I really want to like the The Ford Flex; it hearkens back to an era of camping trips with the Beav and 50-cent/gallon gas. Then I wake up, and gas is still $3.50. Though on the bright side, I'm not that no-good Eddie Haskell.
Check out Prof GFR's whole collection of Chicago Auto Show '08 photos on flickr [flickr]