Several people have sent in tips from all over for the Nestt car seat concept by Chicago-based industrial design firm think/thing. In fact, one of the architect designers emailed me a couple of weeks ago, interested in my thoughts on it.
What with the new kid and all, my turnaround time is lagging. And besides, I'm in purely practical mode at the moment, and considering the pure concept stage of the Nestt, which is years and years and countless iterations away from ever seeing the backside of a real kid, I just couldn't get motivated.
If the rendering looks sexy, it's because it's missing the minor details that a real car seat would need: safety straps. infant support inserts. giant instruction and disclaimer stickers. sippy cup holders.
I don't want to sandbag a well-meaning and ambitious set of visionaries, if that's what think/thing are, or but a damper on their pursuit. As a visioning exercise meant to tackle some of the most annoying and unattractive products in the kids market, the Nestt is a welcome diversion. But so far, beyond making a strong aesthetic presence, it breaks no new ground, and there are flawed or unresolved assumptions that'll need to be addressed if the firm wants to use this as anything more than a calling card.

The rotating attachment mechanism looks slick and may be on par with a regular click-in plastic base, but it's seriously underrealized compared to the Orbit system: Three springloaded screws vs a 360-degree interlocking steel ring and an "aircraft aluminum backbone." Orbit's metal-on-metal ka-chung is the experience design equivalent of a Lexus door closing. Whatever its actual safety performance, the Orbit base signals over-engineered safety in a way that the Nestt's pared down trivet-and-screws base does not.
The internal steel safety cage is a great concept, but the structure visible through the translucent shell [a nice idea, btw; I saw a translucent car seat in Amsterdam by Koelstra, wonder whatever happened to that thing?] looks entirely non-performing. I'd expect a structure like that to derive from a race car cage, or another kind of rigorously tested seat that's been through countless dynamic force simulations. This one looks like a line drawing placeholder. The Radian car seat's no looker, but the shape of its metal frame is derived from airplane seats and auto seats and a great deal of actual testing.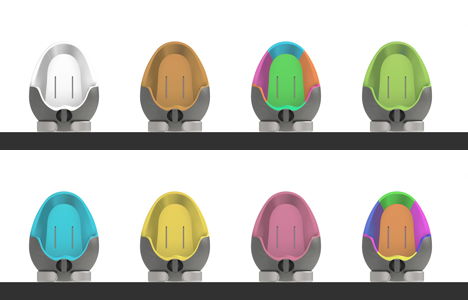 The egg shape is cool-looking. [Besides the Orbit, the customer for egg-shaped car seats has the Bebe-Confort Creatis as well (below), though it's only a 0-13kg infant carrier. Bebe-Confort also makes a pivoting car seat.] The idea of a roof on a car seat is pure folly that betrays a triumph of design over actual use. Even if your kid doesn't happen to grow out of it too quickly, though, the Nestt is a single-purpose device: it'll be too heavy and awkward for a plane, and there's no mention of a stroller. So urban parents and travelers are SOL.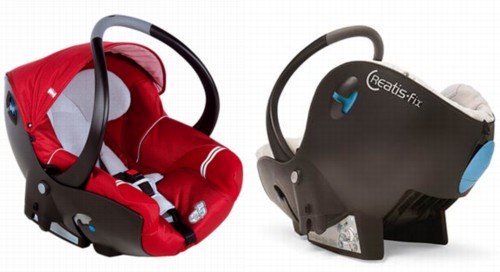 Nestt is supposed to be "the best car seat in the world." Yet it seems to confuse the world with the US. It touts its side impact protection and its compliance with US federal safety standards--which have no provision for side impact protection. Why not design to EU standards, or Japanese standards, something more rigorous than US standards?
The last piece of the puzzle is, or should be the first. It's always possible to create the best of anything, if cost or actual marketability are no concern. As it stands right now, the Nestt is to car seats what the $17,000 Vertu is to cell phones: mid-level technology wrapped in an hyper-stylized, cost-no-object skin .
There are $1200 car seats in Japan--they're incredibly well built, great fabric and finish, as well as being super-secure cocoons. And people regularly shell out $300 for top-of-the-line Maxi-Cosi's in Europe. [Some knuckleheads even spend another $100 to ship the things to the US.]
But the US car seat market is dominated by cheap, ugly crap that drags down the market for high-end, high-performance car seats. [When Maxi-Cosi made their long-awaited entry to the US market, they did it with a downgraded, value engineered, tackified version of their EU products. US Maxi-Cosis use lower grade plastic; the Priori base was stripped and chopped in half; the Mico has a crappy, bulky canopy instead of the EU's hidden nylon version. Rather than be the best in the market, they settled on being slightly better than the rest.] I mention this because even if it were a fully resolved product, the market opportunity for the Nestt is going to be pretty small.
But the Nestt is a concept, not a product. If it were a sketch on a napkin, genpop's expectations would be better calibrated, but sexy renderings which are happily published and consumed by the insatiable, all-eye-candy, no-context designweb can sometimes seduce architects and designers into thinking their work is done. I'm sure the big thinkers at think/thing are not so easily misled.
So yeah, hope that's not a sandbagging. Keep me posted.
Nestt Car Seat at think/thing: don't miss the video [thinkthing.net via everywhere]