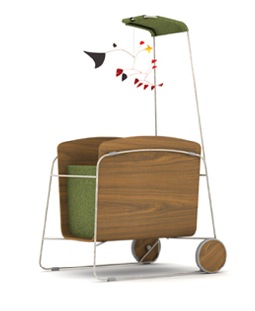 The first thing I thought when I saw the renderings for the new bassinet and easel from Argington and ODA, the Office for Design & Architecture: a pushcart.
This thing would be perfect for a family moving into one of those towers on the Lower East Side, a great way to evoke the storied, gritty, authentic character of the neighborhood--which you just paid $3 million for Bernard Tschumi to obliterate for you.
Stainless steel rod and walnut-veneered ply makes a nod to the late-lamented Ooba and to the Eameses lounge chairs before them. This bassinet's got more whimsy, though. Which is industryspeak for "stuff I don't get."
If you attend either the NY Gift Fair or ICFF, where these puppies will be unveiled, perhaps you can ask one of the designers [ODA's Eran Chen, Christian Bailey, and Charles Brill are credited on the design; Argington is the manufacturer] what's up with that little canopy thing the Euros are so fond of. Clearly, they are well-versed in its historical references. Me, not so much.
No information on pricing yet, but I would guess the version shown here retails for about $224,000. If you swap out the original Calder mobile, that'll come down significantly.
ARGINGTON FURNITURE COLLECTION W/ ODA -- 2008 [oda-architecture.com via core77]