Kut the krazy krap; you've got to be kidding: Buckminster Fuller, the father of the geodesic dome, was also the creator [kreator?] of the Kiddie Koop crib? The Kiddie Koop made by the Trimble Nurseryland Furniture Co. of Rochester, NY? That's what it says on the Buckminster Fuller Master Index, anyway. Only it makes no sense.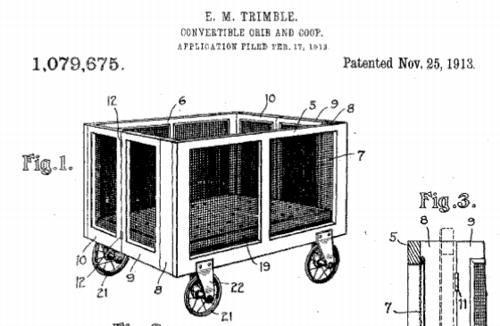 The Kiddie Koop was first patented by E.M. Trimble & Co. of Rochester, NY, in November 1913. Though he was in the same general area, attended a Froebel kindergarten, and was already known as a tinkerer, I think Fuller, then 17 years old, was too busy working in the meat packing industry and entertaining dance troupes in his dorm room at Harvard to have invented a rolling enamel-and-mesh crib that converts to a playpen.
Here's an image of the Kiddie Koop from an old-timey 1920's print ad on eBay: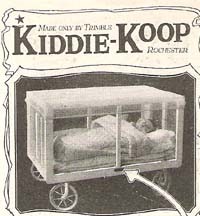 Put the lid on, and the Kiddie Koop promises protection indoors and out "against sun, winds, and draughts, insects, animals [and] forbidden toys."
The Twenties were a rough time for Fuller, who blamed himself for the death of his young daughter to polio and spinal meningitis in 1922. In a classic bit of Fuller lore, in 1927 the 32 year-old was drunk, broke, and unable to support his wife and newborn baby, and he had resolved to throw himself into Lake Michigan when he decided that there was a "one-in-an-illion chance" that his accumulated life experience might be of use to someone else or to humankind generally, so he didn't. The rest is geodesically shaped, slightly hippie-ish, guru history.
Except for that crib. The BFMI cites the all-new 1946 edition of Louise Zabriskie's parenting handbook, Mother & Baby Care in Pictures as the source of the Fuller crib credit. Maybe there's a picture of an all-new, Dymaxion-shaped Kiddie Koop the world has forgotten about. We'll see. I just ordered me a copy for a dollar from Abebooks.
Buckminster Fuller bio [wikipedia]
B Fuller Master Index: Furniture: A-L [buckminster.info]
Bucky on not committing suicide, excerpt from Guinea Pig B [bfi.org]
Previously: Holy Buckminster Fuller! Dad makes playdome at home!