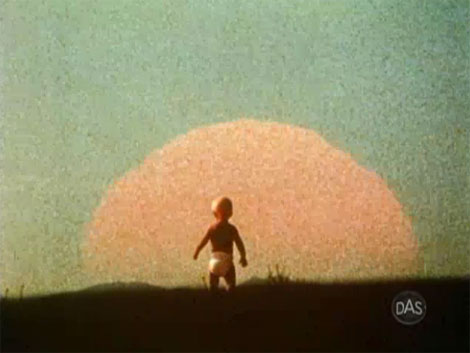 After I posted the story about my 2.5-yo brother dumping my newborn sister by the mailbox as he toddled off to play, my mom busted on me a bit, saying I made her sound like a bad parent.
I was all, "But no, mom, it's a sign of how much we've lost and how much things have changed since the 1970's, when people were able to let kids play outside, safe and free."
And just in case she doesn't believe me, I can point to the end of Solar Film, a short hippie-ganda movie Eames Demetrios posted online. We see that as late as 1980, crunchy solar power types like director Saul Bass and exec. producer Robert Redford thought nothing of having an unsupervised baby wander off across a field into the setting sun. With no hat, no sunscreen, and wearing a landfill-clogging disposable diaper. Yep, those were the days.
The Solar Film (reprise) [dasfilmfest.com via grainedit]
Previously: My Brother, the daddy type