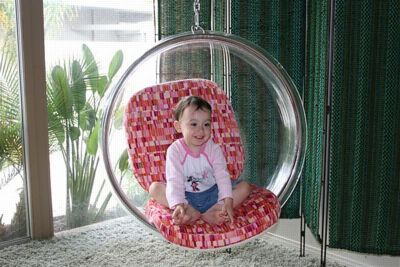 O-Zone knockoff chair, daughter
The NYT Style section has a slideshow of funky kids chairs, including the Happy Cat beanbag chair [or as mfr Roommate calls it, the Fat Cat], that one shoehorn chair that's been hanging in the corner at Ikea for like ten years, and a "Breuer, put your crayons away!" chair/desk/table from Eric Pfeiffer's new 10grain collection.
But the real story is how the NYT gets all pumped about the kid-sized O-Zone chair [above] without even mentioning that it's a total knockoff of Eero Aarnio's Bubble Chair, right down to the standard silver cushions and the product shot using the designer's [sic] daughter.
Aarnio chair, daughters
Not only is Aarnio alive and kicking, he's making new children's furniture designs at this very moment. ModernHQ has some giant acrylic balls to knock off one of his iconic designs, especially when it's still in production. [They actually make a full-size 42" knockoff as well as the 30" kid's version.]
Still, maybe it'll all work out. When the Times cooed over the Mini-Mies Barcelona Chair knockoff by the Miami baby gurus at Genius Jones, it was just the kick in the pants Knoll needed to convince the Van Der Rohe estate to authorize a children's version. Maybe this'll encourage Aarnio and his people to pop out some kid-sized Bubbles.
Pull Up A Chair And Play [nytimes.com]
D'oh-zone: O-Zone Chair, "A classic from the start", 30-in. version, $995 [moderntots.com]
Yeah, almost! O-Zone Chair "is almost like a floating Ball Chair" [modernhq.com]
Bubble Chair, "the original by Adelta" [eero-aarnio.com]
Eero Aarnio Bubble Chair, $3,738 [hivemodern.com]
Previously:
May 2006: I Shall Call Him Mini-Mies. At Least Until Knoll's Lawyers Come For Me.
Oct. 2007: Barcelonita! Knoll Makes Kid-Sized Barcelona Chair