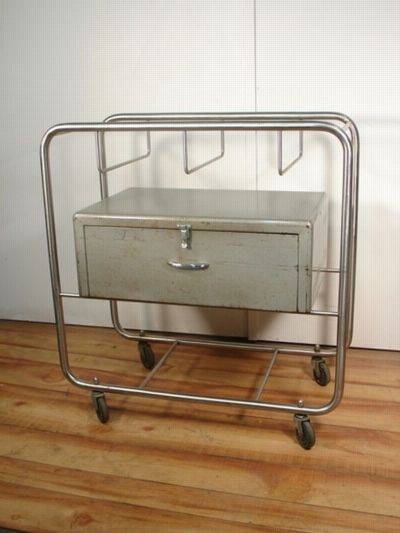 It needs a plexiglass baby bucket and maybe a bit of scrubbing, but there's one of those awesome hospital bassinet's on eBay right now.
With an opening bid of $125 and to-the-Greyhound-station shipping of $50, that's definitely retail price, for vintage, anyway. It's still a bargain compared to a new Blickman Coleman bassinet, which clocks in at $1,303.
Either way, they both convert to great drink carts; I bet that basket can hold a 50-lb bag of ice and up to three party balls.
">Vtg Industrial Stainless Steel Wheeled Chest Cart Stand, first bid $125+50s/h, ends jan. 15 [ebay via ebay shark andy]
Buy an AliMed acrylic bassinet basket, now $166, and a combo foam bassinet mattress, $84 [alimed.com]
But it New! Blickman Coleman bassinets with enclosed cabinets, $1303 [alimed.com]
Previously: that sweet stainless steel & plexiglass bassinet from the hospital