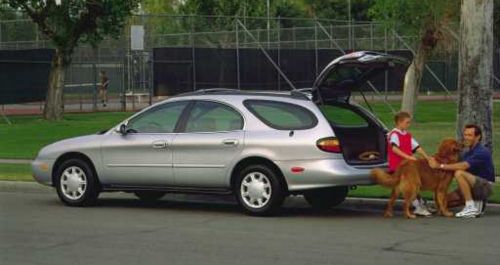 I don't quite know how to explain... But lately I've been having these strange feelings welling up whenever I see... I mean, I totally mocked my I-banker friend who bought one in 1999 to keep in the city [they'd just had their second kid and had sacrificed their dining room in order to not move to Westchester for another year.]
My Hertz profile has said, "Prefers Camry" for more than a decade.
But I can't deny it any longer. I find myself being seduced by the sexy, almost extraplanetary curves of the third generation Taurus Wagon. Purely on a design basis, I actually loved the controversial oval all-over styling, including the dashboard, but even if you didn't, it didn't matter, because you were probably renting it, not buying. Once the knuckleheaded Motor Trend crowd started shouting, Ford got cowed into toning down the Taurus' ovoid features; so the best-looking designs are the early ones, from 1996-7.
So yeah, it turns out to be the perfect rental car, but also the perfect city car, in the sense that you probably don't stress too much over potholes or parking it on the street. [Or is that just vestigial rental car thinking?]
How do these things drive? I honestly can't remember. How do they hold up? Were these things built to last? I doubt it. Do they get any love at all? [see "prefers Camry" comment above]. Did they ever have enough options to make them actually nice, not just fine? What about an SHO? Did they ever make a wagon version? Because that could be sweet.
D'oh, I shouldn't have asked:
The vehicle pictured here is a one-of-a-kind SHOwagon built in California in late 1998 or 1999.
I have been trying to collect details of the build and the history, but have not had much success. Here is what I know so far. The SHOwagon was made by welding the front of a 1998 SHO with the back of a regular Taurus wagon. According to stories, a brand new '98 SHO was totaled on a test drive. It was hit hard in the rear. Someone came up with the idea to use the front of this car with the back of a 1997 wagon. Both vehicles were sectioned and welded together near the B pillar and sunroof. For added structural stability, subframe connectors were welded underneath. It was finished for the 1999 SHO convention in Atlanta, GA ... the 10th anniversary of the Taurus SHO...

As far as I know, this is the only Gen III (1996-1999) SHO wagon ever made. Do you have any information on another?
A quick check on eBay reveals 1997 Taurus SHO's for $3-5,000. And wagons are even less. Hypothetically, couldn't you create another Gen 3 SHO Wagon for what, $15,000? $20,000? $20,200 with the optional rear-facing third seat?
Either this is one of the sweetest yet-to-be-realized station wagon projects ever, or I'm having some kind of MBA road warrior Stockholm Syndrome-tinged flashback. If I start trying to order room service from the doorman, I guess we'll know which it is.
V8 SHO Wagon [v8showagon.com]
Bonus: the 1997 Ford Santa Fe concept car, built on a Taurus Wagon with the 3.4L SHO V8 [v8showagon.com]