Though I can't decide between Even More Diapers and I Hate Snaps, Too!
First things first, holy crap, I know they can fill up later, but it just seems ridiculous to me to throw out an entire diaper every 45 minutes when 95% of it is completely unused. Can't someone figure out a more modular way of doing diapers, at least for newborns? Something with a replaceable lining, perhaps? Like how those Playtex bottle shells have little plastic bag inserts? GDiapers is probably the closest thing out there right now.
If past results are any indicator of future performance, it'll be ready in two years.
Also, seriously, the snaps. That has not changed at all. Oh, wait, part of the reason is because the new kid is wearing the old kid's clothes. But no, there are still violently annoying snaps on the new stuff, too. I don't want to have to track down some obscure hippie clothes made by a cottage industry co-op to solve this snap problem, you hear? Let's find a solution, then let everyone copy it shamelessly, once and for all. It's been long enough.
And now that I think about it, why are all the clothes so big? The new kid's 20 inches long, only in the 75th percentile, so not a giant. And yet, only one of four of the 0-3 month pajamas and outfits fits her.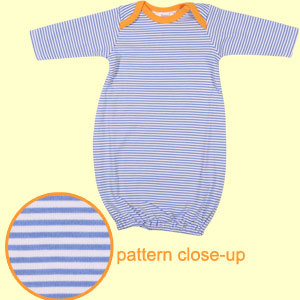 Fortunately, my mom just rolled into town with a couple of sleeping gowns [no snaps!] from Zutano's newborn-specific Itzy*Bitzy collection. They're former DT advertisers sold by DT advertiser Olie Bollen, and this is the first I'm aware of it? Maybe it's time to stop poking around the old wooden ride-on toys and get serious about this new baby thing...
Check out bodysuits, leggings, shirts, and sleepers from Zutano's Itzy Bitzy collection at Olie Bollen, $8-20 [oliebollen.com]