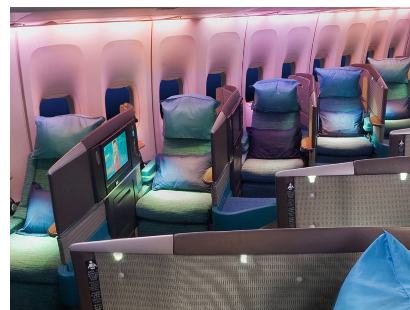 A dad named James took his family--wife, two sons (5 and 2), and the nanny--along to Hong Kong for a combo business trip/vacation, Cathay Pacific both ways. On the way home, he's told that little Rex's car seat is not allowed in New Business Class. A debate with the crew--and then the captain--ensues as Rex demonstrates his inability to stay put by himself in the giant, isolated seatpod, and the entire family is literally voted off the plane.
From James's account, the HK airport manager for Cathay Pacific gave them a really rough time, accusing them of being a security threat and not following flight attendant instructions. [Which sounds incredible to me; we've never had anything but stellar service on CP.] And while the situation sounds like it'd be superannoying, I have to say, CP seems to be totally in the right.
Though Cathay's website states that forward-facing car seats are allowed, it also states no less than three times, in a highlighted box, that "no baby car seat can be used in the new Business Class."
The family was eventually rebooked on another flight, on a plane that has not yet been upgraded to the new, kid-proof Business Class. A valuable lesson to be learned: doublecheck your airline's kid travel policies before spending even $200 on a ticket. But if you're going to spend $20,000, make sure you get stranded at an airport with the best soup dumplings of any Business Class airport lounge in the world.
Cathay Pacific Thinks Your Kid's Car Seat Is A Security Threat [consumerist]
related: No surprise, but CP's site makes no mention of the CARES safety harness