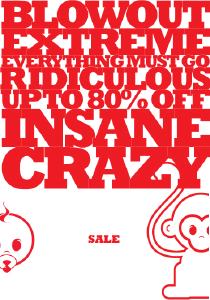 Yoya's having a sample/warehouse/clearance/blowout sale next week, and you and your cash are invited.
Not sure what they have planned, whether it's just books, clothes and toys, or whether there are Netto and ducduc nursery setups for immediate delivery, 80% off, too. A man who's waited too long to order the crib can dream, can't he?
Anyway, the sale is being held at LexPark Studio, which normally hosts focus groups and brainstorming offsites and such. If you take a chance and go during the last few hours, they may actually try and pay you to take the last few pieces home.
What: "Insane Crazy" Yoya + Yoyamart sale
When: Dec. 10-12, 12-6pm
Where: 873 Broadway, Suite 408 [between 18th & 19th, I think it's above Duane Reade]
How: Cash only, baby