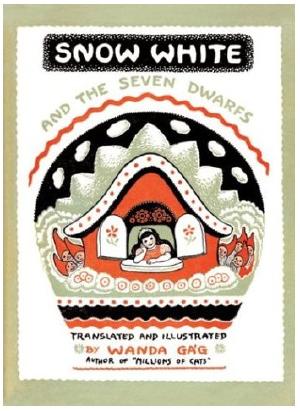 Ouch. You've gotta feel for the budding children's book artist who introduces her meticulously translated, true-to-Grimm, three-color labor of love retelling of Snow White & The Seven Dwarfs in 1937, the year Walt Disney revolutionized cinema with his own version.
As you can imagine, Wanda Gag's Snow White did not become a perennial classic; it went out of print, and only came back recently, as part of the University of Minnesota Press's Heritage Books series.
We're always on the lookout for interesting non-Disney variations on these classic stories, just to enrich the kid's mix. Gag went on to a prolific illustrating career, so this early work of hers sounds worth a try.
Buy Wanda Gag's Snow White and the Seven Dwarfs, $11 [amazon]
via Slate's slide show history of children's books, which strains a bit too hard to make old-new connections [slate]